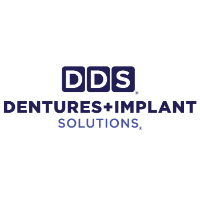 Associate Dentist PLLC at DDS Dentures + Implant Solutions
Fort Smith, AR
Overview
Our doctors not only change smiles, they change lives. Serving seven million plus patients for over 40 years, each clinically-led practice has a dedicated on-site office manager, a full business service team, allowing you to focus on quality patient care.
Enjoy access to state-of-the-art technologies, like 3-D cone beam imaging and an innovative on-site lab. You will be equipped with industry-leading live implant training, and provided a generous compensation package.
Unique Benefits:
Competitive base salary, with a quarterly bonus potential
$5,000 sign-on bonus
Experienced office manager and dental lab located on-site
Malpractice insurance, 401k match, health insurance, licensure, and CE
If you're confident in your clinical abilities, financially motivated, and love delighting patients -- join our team!
 "I'd say almost on a weekly basis, we have patients at the end of the procedure who are jumping up with joy. They're crying. These people are so thankful, and I never had that in general dentistry." 
— Dr. Christopher Athari, DMD, FICOI, FAAIP, Affordable Dentures & Implants Practice Owner, Mesa, AZ
Responsibilities
Educate patients on oral health.
Keep abreast of new developments in dentistry through structured continuing professional developments.
Consult, diagnose, plan and care for patients in our removable prosthetic and implant practice
Assisting with the provision of removable prosthetics and extraction services, as well as the necessary steps involved with each service and adjustments as needed
Working closely with an on-site lab to design dentures and partials for our patients
Providing a variety of tooth replacement options to our patients, including implant services
Qualifications
Must be a DDS or DMD from an accredited school
Implant experience preferred
Ability to get along with others and possess good bedside manner
About Affordable Care:
Founded in 1975, today Affordable Care, LLC is America's largest dental support organization (DSO) focused on tooth replacement services, serving more than 320 dental practices across the United States. Each practice has an on-site dental laboratory, allowing the practice to provide same day dental services including extractions, dentures and implants. Affordable Care is the DSO for two top dental brands: Affordable Dentures & Implants and DDS Dentures + Implant Solutions.
From the Affordable Care Support Center, located in North Carolina's Research Triangle Park, along with field-based teams, Affordable Care provides business expertise and support services to dental practices, taking care of non-clinical duties so dentists can focus on treating patients. Visit affordablecare.com, affordabledentures.com and dentalservice.net.