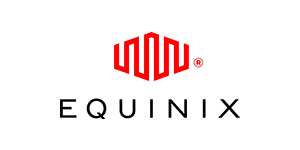 Customer Revenue and Finance Senior Analyst at Equinix, Inc.
Tampa, FL 33601
Customer Revenue and Finance Senior Analyst
Equinix is one of the fastest growing data center companies, growing connectivity between clients worldwide. That's why we're always looking for creative and forward thinking people who can help us achieve our goal of global interconnection. With 200 data centers in over 24 countries spanning across 5 continents, we are home to the Cloud, supporting over 1000 Cloud and IT services companies that are directly engaged in technological innovation and development. We are passionate about further evolving the specific areas of software development, software and network architecture, network operations and complex cloud and application solutions. 
At Equinix, we make the internet work faster, better, and more reliably. We hire talented people who thrive on solving hard problems and give them opportunities to hone new skills, try new approaches, and grow in new directions. Our culture is at the heart of our success and it's our authentic, humble, gritty people who create The Magic of Equinix. We share a real passion for winning and put the customer at the center of everything we do.
Job Summary: Delivers financial modeling, business partnering, financial analysis, forecasting/budgeting, operational/metric analysis, and ad hoc reporting.
Responsibilities
Prepares guidance, templates, analysis and presentation to enable the budget and forecast process Reporting
Prepares regular executive and operational report preparation and analysis process for financial and non-financial KPI's (key performance indicators)
Supports the production of monthly and quarterly management reports (i.e. monthly management deck, quarterly regional performance reviews, quarterly forecast presentations, budget presentations, etc.) for Executive Management; including financial information, key metrics and insightful variance analysis and commentary Business Partnering
Develops relationships with leaders across the business (cross functionally) to understand the business needs and deliver on those needs (independent relationship with business partner) Financial Analysis
Solves complex problems and takes a new point of view on existing solutions, exercising judgment based on the financial analysis of multiple sources of information Control/Compliance
Reviews completeness, accuracy, and that data falls within pre-determined or approved limits, assistance with SOX compliance Sales Commission
Calculates commissions and sales bonus, aggregates data, and completes analysis required for creation of accrual
May review sales bonus and commissions
Qualifications
3+ years experience in finance or related field preferred
Bachelor's degree in finance or accounting preferred
Master's degree preferred
Equinix is an equal opportunity employer. All applicants will receive consideration for employment without regard to race, religion, color, national origin, sex, sexual orientation, gender identity, age, status as a protected veteran, or status as a qualified individual with disability.