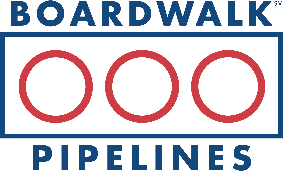 Lead Analyst, Application Developer at Boardwalk Pipelines, LP
Houston, TX 77046
Boardwalk Pipelines, LP primarily provides transportation and storage of natural gas and liquids for our customers. Additional information about the Partnership can be found online at www.bwpmlp.com.
Boardwalk Pipelines, LP is looking for an Lead Analyst, Application Development for our Houston, TX office.
POSITION DESCRIPTION:
In this role, you will be leading the design, development and delivery of innovative applications on a variety of platforms (cloud, mobile, etc.) while working on team-based projects and will be responsible for researching and evaluating emerging technologies for potential use at Boardwalk, where appropriate, to meet user requirements. You will work across application areas to develop architecture standards, coding standards, and guidelines for solution evaluation and technology adoption. Other key aspects of this position are mentoring less experienced development resources, presentation of technological topics to various levels of management, and collaboration with other IT staff members.
Additionally you will be responsible for designing, developing, and documenting solutions using a full spectrum of technologies and design patterns. Collaboration is essential for the translation of business requirements into technical requirements. It will be necessary to evaluate and recommend application architecture designs and concepts.
REQUIRED SKILLS, KNOWLEDGE AND EXPERIENCE:
*Ability to architect, develop and implement software solutions
*Strong hands-on knowledge of one or more of the following:
*JVM technologies such as Java/Scala
*.Net Stack, such as C#, ASP.Net (Web Forms and MVC), .Net Core
*Modern web applications, such as Angular, React and other JavaScript frameworks
*Strong background in relational and No-SQL databases
*Knowledge and understanding of RESTful service design
*Experience with Agile methodologies
*Experience with collaborating across multiple functional and technical teams to deliver a project
*Strong communication skills
*Proven experience leading development and/or project teams
*Ability to think critically and solve business problems with well thought-out solutions
*Skilled with technical documentation artifacts
*Bachelor's degree in Computer Science or a related field
PREFERRED SKILLS, KNOWLEDGE AND EXPERIENCE:
*Cloud Architecture – AWS
*DevOps CI/CD
*Working knowledge of natural gas industry, especially in the liquids and natural gas pipeline segments
We are proud to be an EEO/AA employer M/F/D/V. We maintain a drug-free workplace and perform pre-employment substance abuse testing.
Paid Holidays
Medical, Dental and Vision
Performance bonus
Long Term Disability
Employee Referral Program
Life Insurance
Professional Development
Tuition Reimbursement
Prescription Drug Coverage
401K
Flexible Spending Accounts
Military Leave
Vacation/paid time off
Mobile Phone Discount