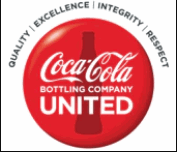 Mechanic - Fleet 2 at Coca Cola Bottling Company United, Inc.
Baton Rouge, LA 70811
Division: Louisiana 
Department : Baton Rouge Fleet Operations 
Work Schedule: Mon - Fri 1:00pm to 9:30pm 
Summary Job Statement
CCBCU primary responsibility of the Fleet Mechanic Lead is to maintain, troubleshoot and repair company fleet equipment to include, class 1-8 diesel and gasoline trucks, trailers, pallet jacks, forklifts and automobiles.
Responsibilities
Troubleshoots and diagnoses mechanical and electronic malfunctions. Prioritizes and plans work activities to ensure efficient use of time.
Performs preventative maintenance, repairs, tests equipment and various types of preventative maintenance tasks.
Completes electronic work orders, ensures repairs and labor are accurately recorded in maintenance program.
Maintains general housekeeping by maintaining a clean and safe working environment.
Requests parts and maintains accurate Inventory. Ensures parts are accurately recorded in computerized maintenance program.
Minimum Qualifications/Requirements
High school diploma or general education degree (GED); or 3 years related experience and/or training; or equivalent combination of education and experience.
Ability to read and interpret documents such as safety rules, operating and maintenance instructions, and procedure manuals. Ability to write routine reports and correspondence. Ability to speak effectively before groups of customers or employees of organization.
Ability to add, subtract, multiply, and divide in all units of measure, using whole numbers, common fractions, and decimals. Ability to compute rate, ratio, and percent and to draw and interpret bar graphs.
Ability to apply common sense understanding to carry out instructions furnished in written, oral, or diagram form. Ability to deal with problems involving several concrete variables in standardized situations.
Must obtain Class A CDL within 90 days.
Knowledge of diesel/gasoline engines, air brakes, computer diagnostic work, completion of work tickets, good relations with sales.
Must have strong computer skills to work efficiently in this role.
Must be able to prioritize and plan work activities to ensure efficient use of time.
Must have the ability to work in a positive and productive team environment.
Additional duties as assigned
Additional Comments

Successful candidates with our company must pass a drug screen and background check. (MVR/DOT Physical, if applicable)
Coca-Cola Bottling Company UNITED, Inc. "An EEO/AAP Employer (M/F/D/V)"
CCBCU is an Equal Opportunity Employer Minorities/Women/Veterans/Disabled.