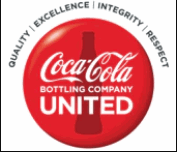 Merchandiser - Large Store at Coca Cola Bottling Company United, Inc.
Union City, GA 30349
Division: Atlanta 
Department : South Metro Large Store Area 2 
Work Schedule: Mon - Fri 5:30am Until Completed 
Summary Job Statement
The Merchandiser- Large Store position will stock and merchandise shelves, racks, and displays in assigned account by performing the following duties:
Responsibilities
Responsible for merchandising all product inside the outlet to company standards
Sets up merchandise and sales promotion displays or issue sales promotion material to customers.
Communicates any store level issue to management
Responsible for safe guarding company assets
Maintains rapport with customers
Collects or pick up empty containers or rejected/unsold merchandise
Ability to work with a handheld device
Minimum Qualifications/Requirements
High school diploma or general education degree (GED); or 3 to 6 months related experience and/or training; or equivalent combination of education and experience.
Ability to read and comprehend simple instructions, short correspondence, and memos. Ability to write simple correspondence. Ability to effectively present information in one-on-one and small group situations to customers, clients, and other employees of the organization.
Ability to add, subtract, multiply, and divide in all units of measure, using whole numbers, common fractions, and decimals. Ability to compute rate, ratio, and percent and to draw and interpret bar graphs.
Ability to apply common sense understanding to carry out detailed but uninvolved written or oral instructions. Ability to deal with problems involving a few concrete variables in standardized situations
Must have a valid driver's license and be in compliance with CCBCU's fleet policy.
Must have a reliable vehicle and valid car insurance.
Additional duties as assigned
Must be at least age 18.
Physical Requirements
Position will be required to comply with the CCBCU Personal Protective Equipment Program. Position is required to wear safety toed shoes when performing the following tasks: Operating Powered Industrial Equipment or Working in an Area where Powered Industrial Equipment is in use, Fleet Maintenance, Working with Palletized Product, Use of Hand Trucks/Dollies to Deliver Product, Cooler Services, etc.
Additional Comments
 
Successful candidates with our company must pass a drug screen and background check.  (MVR/DOT Physical, if applicable)
Coca-Cola Bottling Company UNITED, Inc. "An EEO/AAP Employer (M/F/D/V)"
CCBCU is an Equal Opportunity Employer Minorities/Women/Veterans/Disabled.