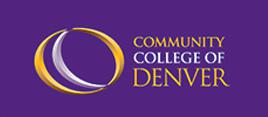 Accessibility Center, Interpreter- American Sign Language - Hourly at Community College of Denver
Denver, CO 80217-3363
Job Title: Accessibility Center, Interpreter/Transliterator for the Deaf - Hourly

Department: Accessibility Center
Pay rate:TBD - commensurate with experience
Number ofopenings: 3
Duties and Responsibilities
Interpret and transliterate for deaf and hard of hearing students, staff, faculty and visitors in academic settings for Community College of Denver events, generally in a team interpreting environment.
Prepare for interpreting assignments, attend interpreter meetings as scheduled and keep coordinator informed about communication related needs or concerns as they relate to interpreting assignments.
Educate hearing consumers on the interpreter's role in assignment.
Work to continually enhance skill and service delivery through attendance at workshops and conferences and participating in mentoring opportunities
2 to 20 hours per week, as needed, at an hourly rate commensurate with experience.
Minimum Qualifications
Graduate of Interpreter Preparation Program, demonstrated knowledge and skills in standard practices of interpreting/transliterating at post-secondary and professional levels.
Preferred Qualifications
National Certification or equivalent combination of education and experience.
Time Commitment
2 to 20 hours per week (may not exceed 28 hours per week)
Closing Date:Open Until Filled
To Apply:
Please include the following items with your profile, by clicking New Resume/CV under "Apply" below:
Cover letter including availability

Resume
Questions? Contacthrep@ccd.edu
Community College of Denver is seeking individuals with demonstrated commitment to creating an inclusive learning and work environment. CCD values the ability to work effectively with students, families, faculty, instructors and staff of diverse backgrounds.
CCD is a Learning College where policies, programs and practices support learning as the major priority.
Community College of Denver is an Equal Employment Opportunity Educational Employer.
Background checks will be conducted on all finalists for employment consideration.
CCD recognizes that administration, faculty, instructors and staff reflect the diversity of its students and community and prohibits employment and student discrimination based on race, color, religion, national origin, citizenship, gender, marital status, sexual orientation, age, disability, veteran status, or any other characteristic protected by federal, state, or local law.
For information regarding Community College of Denver Security, including crime statistics for the campus and surrounding area, please see the CCD Campus Security website under "student's right to know": http://www.CCD.edu/Safety. For a hard copy report please contact 303-352-3042.


Required Skills


Required Experience