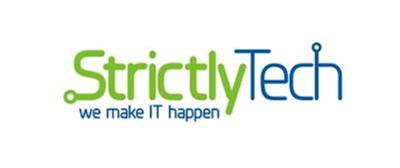 Accounting Coordinator - IT Company (Fort Lauderdale) at Strictly Technology LLC
Fort Lauderdale, FL 33309
At Strictly Tech we make IT happen for customers nationwide 24/7. Our Team of professionals are passionate about technology, customer service and an opportunity for success. 
Strictly Tech provides all the tools to build a rewarding career. To learn more about our company please visit www.strictlytech.com
Job Description:
Accounting/Purchasing Clerk
Strictly Tech, a continually growing Value-Added Reseller of Information Technology, has created an addition to staff and is in immediate need for a strong admin to assist in our Accounting and Purchasing Departments.  QuickBooks experience preferred (or experience in other accounting software) to handle accounts receivable/payable, order processing via industry specific software, process credits and RMA's, register warranties on behalf of clients, inventory reconciliations, filing, maintain sales data via Excel spreadsheets, answer phones, and various other office duties as needed.
Requirements:

Qualified candidates will have 3 or more years of accounting and general office experience.  QuickBooks or other accounting software a must.  Applicants must possess efficient office management skills, ability to multi-task, work in a high-paced environment, and possess strong verbal and written communication skills with high attention to detail.
Responsibilities:
General Bookkeeping duties include invoicing, receiving and paying PO's, A/P, A/R
Assist Purchasing via processing orders in industry specific portal
Manage customer records and information
Work with Sales and Operations Teams to coordinate invoicing in a timely manner
Perform other duties as determined by President/CFO
​Qualifications:
Superior command of QuickBooks software (preferred) or equivalent software experience is required
Minimum of 3 years accounting or bookkeeping experience
Excellent verbal and written communication skills
Must understand general accounting practice and inventory concepts
Strong computer skills – Quickbooks, Excel, data entry and accuracy working in spreadsheets
Ability to prioritize and multi-task and work between departments
Strong organizational skills
Professional writing ability to correspond with clients
Deadline and detail-oriented
Benefits:

Medical, Dental, Vision, Life Insurance
401K with a company match
Pleasant and exciting work environment 
$37,000.00 - $45,000.00 /year
Based on experience and industry knowledge