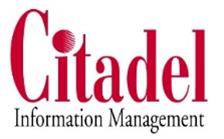 Accounting Dept - Quickbooks preferred. Full Time /Benefits at Citadel Information Management
Westmont, IL 60559
Citadel Information Management established in 1985 is a successful service business, locally owned, headquartered in the suburbs of Chicago. Our services include certified information destruction and records storage and management.
Click here to learn more or to apply online: http://citadelim.com/company-information/careers/
Exciting Citadel news! We are expanding our service operations and will be relocating to the Village of Romeoville IL 1st Quarter 2020. The Village of Romeoville is located in the southwest suburbs is known for its easy access/central location. For more information on Citadel www.citadelim.com.
We have an immediate opening in our Accounting Department and are looking for the right candidate to join our small business.
Your excellent skills and accounting experience will be of high value in our Accounting Department as you will assisting the Dept Manager processing various accounting task and duties.
You must possess excellent oral and written communications skills and the ability to maintain the highest level of confidentiality and sound judgment. You enjoy working in a small business environment and consider yourself "team oriented".
Hours are on a set schedule Monday-Friday.

Compensation is commensurate with skill set/experience. Candidates must be able to pass a complete security background screening and pre-employment drug test.
Tasks may include:
-Daily processing A/R, A/P, banking and other accounting transactions in QuickBooks software
- Generates reports and handles projects with owners and management
-Works with other departments as appropriate
-Makes and takes phone calls to resolve accounting concerns
-Updates and maintains accounting logs and other records detailing financial business transactions
-Enters data into various internal software systems
-Compiles data and prepare a variety of reports.
-Reconciles records with internal company employees and management, or external vendors or customers.
-Recommends actions to resolve discrepancies.
-Investigates questionable data.
Accounting Responsibilities
-Proficient skills in QuickBooks accounting software
-Ability to learn our industry software's pertinent to your role
-Committed to meeting daily/weekly/monthly deadlines
-Organized work style and methodical
-Uses a 30-day calendar to ensure all accounting responsibilities are met
-Excellent communication skills throughout your workday
-Reports to owners and management as appropriate
-Works well in an open office team environment
-Self-directed, performs well without supervisor to complete tasks and meet deadlines
-Compile and process monthly financials to our Accounting Service
-Produces accurate, efficient work in a timely manner, retains knowledge, takes good notes, proofs work
-Provides daily accounting tasks and duties, A/R, A/P
-A/R Collections regarding overdue accounts
-Types accurately, prepare and maintain accounting documents and records
-Reviews work for accuracy
-Prepares bank deposits, general ledger postings and statements
-Reconciles accounts in a timely manner
- Generates reports and provides support to sales and customer service departments
-Research's, tracks and reports to management accounting problems and discrepancies
All other duties as assigned
Accounting Requirements
-Functions in accordance with established standards, procedures and applicable laws
-Constantly updates job knowledge
-Proven accounting experience
-Familiarity with bookkeeping and basic accounting procedures
-Competency in QuickBooks Software, MS Office, databases
-Accuracy and attention to detail, proofs all work performed
-Aptitude for numbers
-Well organized and efficient
-Minimum of 8+ years' current experience doing similar work
-High school degree + associate degree or relevant education for the desired position
General Office Requirements:
-Work behaviors: professional attitude, work performance and appearance
-Reports to management and owners upon one's own volition without being asked
-Strong comprehension and retention skills, takes and refers to notes, proofs work, follows instructions
-Excellent phone, written and verbal communication skills
-Ability to multi-task to complete projects within a certain timeframe to meet deadlines
-Ability to work at a quick pace, work independently with minimum supervision
-Dedicated to team environment; helpful, positive attitude
-Highly detailed, reliable, focused and organized
-Punctual and dependable, good attendance with reliable transportation
-Proficiency in Microsoft Office including Word, Excel and Outlook applications
Interested individuals should provide a cover letter along with your resume to the Attn. of Ms. Austin
By email at hr@citadelim.com or by fax to 630-323-1737
Type in the subject box: Position Accounting Support Team Member 2019-2020

Citadel Information Management is an Equal Opportunity Employer

Compensation is commensurate with experience/skill set