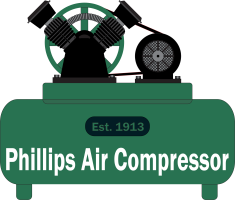 Rotary Air Compressor Field Technician at Phillips Air Compressor
CHICAGO, IL 60636
Summary
Our Field Service Technicians work closely with our Service Manager to delivery excellent service to our customers. You will perform planned (preventative) maintenance to keep machines running smoothly, and also respond to emergency maintenance requests when customers need our help diagnosing and correcting their systems. Our company primarily works on industrial air compressor systems, along with dryers, filters, electrical motors, and control systems.
Type of Work
Respond to customer's service requests by providing excellent customer service in giving detailed explanations to customers regarding the condition of their equipment, assessment of work to be performed and status of work order upon completion of visit to customer site.
Build rapport with customers through effective communication, interpersonal skills, and professionalism. Be prepared for fielding and managing calls from customers and/or visiting a customer's site to safely troubleshoot and/or repair their issues.
Perform routine, preventive maintenance and repairs along with installation of air compressors, air dryers, and other related equipment.
Troubleshoot and perform diagnostic assessments to determine probable cause for malfunctions and to suggest and perform repair for the customer with customer approval.
Complete all appropriate paperwork in detail that supports the condition of the equipment, what actions were taken at the customer site and what additional service/repairs may be needed or if work was completed to customer's satisfaction along with a signature by the customer.
Complete all assigned safety training and be an advocate of safety, following Company policies and procedures to ensure the safety of you and others around you at all times.
Qualification Requirement
Must have experience installing and/or maintaining rotary-screw air compressors
High School Diploma / GED equivalent is required; however, a 2 year technical degree or higher is preferred.
Three (3)+ years of maintenance and repair experience is preferred to include but is not limited to mechanical, electrical, electronics, hydraulics, and pneumatics.
Experience in HVAC, refrigeration, pipe fitting, programming PLCs and welding is preferred, but not required.
Must have own basic tools; job specific tooling will be provided or evaluated upon request.
Basic computer skills.
Possess and maintain a valid Driver's License and be willing to travel.
Willing to work overtime during the week and on weekends when needed or job requires with little notice and be on call for a week at a time, including holidays.
Physical Demands
The employee must regularly lift and/or move up to 50 pounds.
Must wear and use proper PPE at all times, in all applicable areas.
50,000.00 - 75,000.00 /year
Sales Bonuses