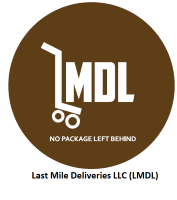 Amazon DSP Delivery Driver at Last Mile Deliveries LLC
Avenel, NJ 07001
Delivery Driver for Amazon Packages.

This is a Full-Time driver position with Last Mile Deliveries LLC, delivering packages for Amazon.
We need reliable, independent, flexible, hard workers who pay attention to details, can quickly problem solve a wide range of situations, and win in a fast-paced environment!
Ideal candidates are enthusiastic, communicate effectively, and ready to get the job done.
Successful delivery drivers enjoy being out on the road driving, put safety first and care deeply about customer expectations and satisfaction.
We are looking for team players who desire to grow with the company.
Military VETERANS are welcomed
As we grow, supervisory roles will be available.
Benefits & Scheduling:
· $16 / hour (Paid Weekly)
· 10-hour shifts are typical
· 4-day work week (40 hours) is typical
· A minimum of 2 paid 15-minute breaks during your shift and 1 unpaid 30 minute meal break
· Opportunity for performance incentives and bonuses
· Medical, Dental, and Vision insurance upon completion of waiting period.
· Paid time off begins accruing immediately at start of employment
Key Duties & Responsibilities:
· Successfully handle and deliver packages on time.
· Safely drive and perform safety inspections on company vehicle; follow all local & state laws, road/driving regulations, and company policies.
· Provide excellent customer service and satisfaction despite stressful events / conditions.
· Keep pace in physically demanding job; work in all weather conditions; lift packages (up to 50 lbs); get in and out of a van repeatedly throughout the day at variable locations.
· Communicate effectively with support team to provide exceptional customer service and ensure deliveries are completed.
· Use smart phone device for GPS Navigation, scanning packages, conducting administrative requirements such as clocking in/out, and communicate with supervisors and other team members.
· Load and unload packages in delivery vehicle.
· Support the team in daily work requirements including participation in rescue calls when other team members need assistance with their routes.
Requirements:
· Must be at least 21 years old
· Must have held state driver's license for at least 4 years
· Authorized to work in the United States
· Must pass a 5-Panel Drug Screening
. Must be available to work on Weekends
· Must have a clean motor vehicle report. (Multiple violations can disqualify you from the position)
· Must have good English speaking, reading, writing / communication skills
Equipment Provided:
· Delivery Vehicle & Gas
· Handheld technology
· Other safety and administrative gear necessary for job accomplishment
Typical Days agenda:
· Arrive at an Off-site Parking Lot.
· Receive your route assignment, Van, and equipment for delivery
· Head to the Distribution center.
· Locate packages and load Van.
· Deliver 175-250+ packages based on your assigned route (150-175 Stops Per Route).
· Refuel and clean van for next day.
· Return to station to Debrief.
· Return Smartphone device and keys.
· Drop Van at the Parking Lot.
HIRING PROCESS takes approximately 1 WEEK to COMPLETE.It may take longer if you have an out-of-state driver's license.
We are an Equal Opportunity Employer. All qualified applicants will be considered for employment, regardless of age, national origin, race, color, disability, religious beliefs, or sexual orientation.
16.00 - 16.00 /year
PaidTime Off