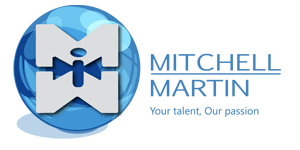 Application Programmer V at Mitchell Martin Inc
Charlotte, NC
Our client, one of the largest banks in the US with wealth management, investment banking, and international business, is seeking an Application Programmer V
Location: Charlotte, NC
Position Type: Contract
Job Summary:
Senior web application developer with focused experience in ASP.NET development is required to work within feature team working on Enterprise Risk & Finance Technology (ERFT) portfolios based in Charlotte, NC. The candidate will be joining a team which is chartered to work on new application development, enhancement and re-write of existing applications in Microsoft .Net stack.
Candidate must work with the team and convert the business problems into viable technical solutions. It is a 100% hands-on development position. C# and JavaScript are the principal programming languages used. Agile & scrum project methodologies are followed.
Responsibilities:
-Technical requirement analysis & design, development, and deployment
-End to end ownership of assigned tasks.
Required Skills:
-Experienced JS/ASP.NET development skills. Primary skills; ASP.Net, Asp.net MVC, C#, AJAX, JQUERY, Java Script, JSON, Oracle 10G/11G
-Secondary Skills: HTML5, Telerik, CSS3.
-Software Skills: Visio, Excel, PPT
-Participated in at least one full lifecycle of an ASP.NET MVC based web application development.
-Experience in working with Oracle Financial, backend is required
-Working experience of Jira, Bitbucket, Jenkins
-Experience in web application security
-Good exposure to .Net Framework and related technologies
-Have 8 - 10 years' experience of hands on developments
-Experience in applying Functional and Object-Oriented programming styles.
-Understanding of CCS3 and Bootstrap.
-Be a strong team player, e.g. believe in pair programming, have excellent communication & collaborative working skills.
-Understand architecture and modeling and be able to actively participate in it
-Follow automated Test-Driven Development practices including continual integration
-Experienced in using design patterns and following best software engineering practices
-High performance and high availability system development experience
-Have a passion for developing best in class technology solutions
-Demonstrate a desire for continual self-improvement through learning & development
88,823.00 - 120,057.00 /year
Application Analyst
What is this?