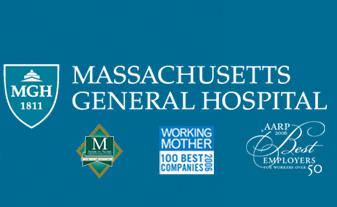 Applications Analyst II at Massachusetts General Hospital
Somerville, MA
Description
true
Applications Analyst II3104639
About Us:
As a not-for-profit organization, Partners HealthCare is committed to supporting patient care, research, teaching, and service to the community by leading innovation across our system. Founded by Brigham and Women's Hospital and Massachusetts General Hospital, Partners HealthCare supports a complete continuum of care including community and specialty hospitals, a managed care organization, a physician network, community health centers, home care and other health-related entities. Several of our hospitals are teaching affiliates of Harvard Medical School, and our system is a national leader in biomedical research.
We're focused on a people-first culture for our system's patients and our professional family. That's why we provide our employees with more ways to achieve their potential. Partners HealthCare is committed to aligning our employees' personal aspirations with projects that match their capabilities and creating a culture that empowers our managers to become trusted mentors. We support each member of our team to own their personal development—and we recognize success at every step.
Our employees use the Partners HealthCare values to govern decisions, actions and behaviors. These values guide how we get our work done: Patients, Affordability, Accountability & Service Commitment, Decisiveness, Innovation & Thoughtful Risk; and how we treat each other: Diversity & Inclusion, Integrity & Respect, Learning, Continuous Improvement & Personal Growth, Teamwork & Collaboration.
General Summary/Overview Statement
As a full time member of the Partners Enterprise Pathology (PeP) Anatomic Pathology (AP) team, the analyst will be responsible for supporting the various needs required for implementation, management, project planning, and support of the Partners Enterprise AP Laboratory Information System (LIS) and its integration with upstream and downstream systems. In addition, this individual will assist in supporting users and initiatives related to the AP test ordering and workflow optimization within Epic by working with Partners eCare team members and representing the perspective of the covered institutions' AP laboratories.
Principal Duties and Responsibilities
• Support Partners Enterprise Anatomic Pathology Lab Information System and its intersection with the Epic system and the PHS eCare organization by:
o Assisting with navigating and troubleshooting issues with orders, results, result routing - both within Epic and the AP LIS.
o Working with Partners eCare to assist in optimization and organization of AP specific issues.
• Provide end user support and issue analysis for the Partners Enterprise AP LIS.
• Support advanced system customization functions (Patient Report Painting and Window Painting) to meet customer business and clinical requirements.
• Support SQL Report Writing and integration with AP LIS using vendor and other toolsets.
• Provide second level support for peripheral components of the LIS including slide printers, cassette engravers, label printers and barcode scanners.
• Participate in creation and implementation of project plans for AP LIS related initiatives and upgrades.
• Assist with LIS analysis, build, testing, and QA for new and existing Partners sites, including assistance in data conversion activities.
• Participate in planning for and testing of Epic upgrades and new site go-live activities.
• Participate in planning for and testing of AP LIS upgrades and new functionality rollouts.
• Assist with supporting integration between AP LIS and related systems, currently including: Leica Bond Advanced Staining Platforms, Ventana Connect System, EPIC, LifePoint Informatics, and Philips Digital Pathology.
• Work closely with representatives from areas assigned to gather and review requirements, develop solutions, design and build for resolving issues that arise.
• Work effectively with matrixed project teams across many functional areas to achieve organizational goals.
• Track and resolve issues and action items
• Recognize, communicate, and appropriately escalate concerns relevant to project critical path and/or timeline in a timely manner.
• Document and analyze business processes
• Assist with creation and maintenance of system design and build documents
• Attend scheduled team meetings to discuss team and project related activities, issues, change, communications, and updates.
• Share expertise by mentoring, coaching and giving general direction to other teammates as directed by Team Lead
• Other duties as required
• Bachelors Degree in Business, Information Technology, Healthcare, or related field is required.
• Five or more years of experience in hospital and/or laboratory operations in one or more of the following areas: computer systems, hardware/peripheral device management, or laboratory information systems.
• Previous experience with Sunquest Information Systems products is preferred.
• Epic certification is preferred.
Skills/Abilities/Competencies Required
• Demonstrable analytical and problem-solving skills, with high level of attention to detail
• Self-motivated, independent and able to learn quickly and be flexible in a multi-site environment
• Strong analytical and problem-solving skills
• Strong verbal and written communication skills
• Able to prioritize and simultaneously work on multiple tasks and projects within timelines
• Ability to work effectively with individuals from all levels of the organization and to promote positive team environment
• Strong PC skills with knowledge of Microsoft Windows, Microsoft Office Suite with particular focus on strong Excel skills
• Knowledge of clinical concepts, common clinical terms, clinical procedures and workflow strongly preferred
• Understanding of the latest concepts in Anatomic Pathology automation and workflow, including but not limited to Frozen Sectioning, Accessioning, Grossing, Processing, Microtomy, Real Time Labeling, Asset tracking, IHC and Advanced staining strongly preferred
• Previous experience working with relational databases for SQL report writing preferred.
• Previous experience working with HL7 Interface language preferred
• Basic understanding of healthcare billing workflows and terminology preferred
• Previous experience working with Laboratory Information Systems preferred
• Previous experience supporting the installation and troubleshooting of lab hardware such as label printers is preferred
• Experience working with Epic is preferred
• Previous project management certification or experience is preferred
• A willingness to learn, be flexible, and adaptable in day to day activities
Working Conditions
• Office environment with local travel to other Partners sites; may include limited exposure to clinical areas
• Off-site pager coverage for support as assigned
• Must be able to provide adequate transportation to and between work locations
• As projects and priorities dictate, must be available to work non-standard business hours such as evenings, nights, weekends, and holidays if/when necessary
Supervisory Responsibility


No direct reports


Fiscal Responsibility


No direct responsibility

Partners HealthCare is an Equal Opportunity Employer & by embracing diverse skills, perspectives and ideas, we choose to lead. All qualified applicants will receive consideration for employment without regard to race, color, religious creed, national origin, sex, age, gender identity, disability, sexual orientation, military service, genetic information, and/or other status protected under law.
Assembly Row - PHS02145Business and Systems Analyst