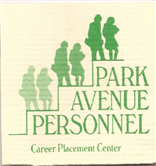 Associate Attorney at Park Avenue Personnel
Englewood Cliffs, NJ
Boutique law firm with a focus in Chancery litigation is seeking an Attorney with 5+ years experience for immediate employment of approximately 18 - 24  hours per week.  Room for potential additional hours. This position is targeted for individuals interested in drafting briefs, discovery demands, discovery responses and the like.  While there may be some need for appearances, attire and work environment are generally relaxed.

Strong organizational skills are required.  Experience in Commercial/Chancery litigation as well as experience in  litigation in New Jersey is a plus.

A portable client base and relevant experience will be consideration for eligibility and compensation.

Great opportunity for candidates currently working Per Diem and looking for a more focused and permanent opportunity with growth.  

Attorney must be licensed in New Jersey, any other state is a plus.  Flexible work week and schedule. Must possess strong communication skills both verbal and written. Knowledge of Microsoft suite. 

Looking to fill ASAP!