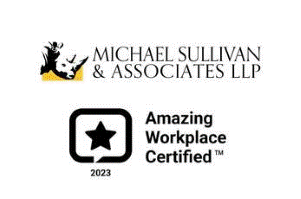 Associate Attorney at Michael Sullivan & Associates LLP
Ontario, CA 91764
Associate Attorney
Do you consider yourself the "best of the best?"
Are you ready to take advantage of a rare career opportunity?
We are rapidly growing and want you to come and grow with us too. We desire an Associate Attorney with 2 to 5 years of workers' compensation experience.
As an Associate Attorney, you would manage the defense of client's claims from inception to resolution, including all aspects of discovery and litigation. You would work closely with insurance companies, engage with employers, and third-party administrators.
We are setting the standard in workers' compensation case settlement and resolution. Work hard, play hard is the company culture. We don't just hire attorneys and throw a stack of cases at them. Your passion to be an expert will be nourished with continued training and development. Michael Sullivan & Associates offers both a beginner and intermediate training program utilizing Sullivan on Comp, written by Michael Sullivan. 
Associate Attorney Skills & Experience
You obtained both a bachelor's and Juris Doctor

 

Degrees.

You are a member of the State Bar of California.

You have superior research and negotiating abilities.

You have excellent interpersonal communication.

You have a dedication to case management.
Work environment
We will provide reasonable accommodations when needed to perform your job.
Mental
You possess disciplined, clear, and conceptual thinking ability.

Your ability to have excellent judgment, tackle problems, analysis, and discretion.

Your willpower to overcome stress, many priorities at a time, while still meeting deadlines.
Physical
You

 

are comfortable using

 

a computer with

 

a

 

keyboard

 

and a mouse.

You will travel only as

 

needed.
Auditory/Visual
•         You have excellent interpersonal communication skills with reliable hearing and vision.
Associate Attorney Benefits & Pay
We offer a competitive salary, acasual environment, and a generous benefits package including:
Dental, Medical, and Vision Insurance

Life Insurance

Paid Time Off, 3 Weeks Starting

10 Paid Holidays

401(k) + Employer Matching after 1-year

Performance Bonus

Flex Spending Account

Career Advancement

Continuous Training/Learning

Employee Discount

Work Remotely

Flex Working Schedules

Holiday Parties

Employee Referral Program

Free Snacks & Beverages

Car Allowance

Cell Phone Allowance

Military Leave

Premium Office Location

Ease of Access to Public Transit

Casual Dress Code
About us Michael Sullivan & Associates
We are a groundbreaking law firm that provides first-rate litigation defense for the Workers' Compensation industry. We publish the highly respected Sullivan on Comp legal treatise and conduct live training seminars and webinars. The firm develops positive relationships with clients through superior legal services and has grown rapidly since its inception in 1996.
Why are you still reading?
We would love to hear from an Associate Attorney like you. Please submit your resume and cover letter by clicking the apply button.
No calls or faxes, please.
The statements contained in this document are intended to describe the general nature and level of work being performed by a colleague assigned to this description. They are not intended to constitute a comprehensive list of functions, duties, or local variances. Management retains the discretion to add or to change the duties of the position at any time.

All candidates who are provided with an offer of employment must pass a background check prior to the first day of employment.

 
We are an equal opportunity employer and value diversity in our company. We do not discriminate on the basis of race, religion, color, national origin, gender, sexual orientation, age, marital status, veteran status, or disability status.

Base plus billable bonuses