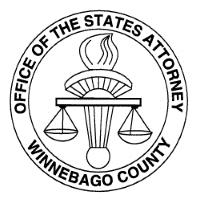 Attorney - Assistant State's Attorney at Winnebago County State's Attorney's Office
ROCKFORD, IL 61101
Winnebago County State's Attorney's Office
JOB DESCRIPTION
| | |
| --- | --- |
| TITLE: | Assistant State's Attorney |
| DEPARTMENT: | Criminal Bureau - assigned to Misdemeanor, Felony or Post-Conviction |
POSITION SUMMARY:
Under general supervision, performs professional legal work within the Winnebago County State's Attorney's Office in various units including Pre-Trial, Misdemeanor, DUI, Traffic, Juvenile, Domestic Violence, Felony and Post-Conviction.
EDUCATION/EXPERIENCE:
Assistant State's Attorney's must possess a law degree and must be licensed to practice law in the State of Illinois.  Previous experience preferred but not required.
KNOWLEDGE, SKILLS & ABILITIES:
Qualifications:  To perform this job successfully, an individual must be able to perform each primary

job

duty

in a

satisfactory

manner

.  The requirements listed below are representative of the knowledge, skill and/or ability required.

La

nguage Skills:  Ability to read, analyze

and interpret

the law,

police and

expert

reports

.  Ability to respond to common inquiries or complaints from general public, social service and government agencies, judges, and other attorneys.  Ability to write speeches and articles using original or innovative techniques and styles.  Ability to make effective and persuasive speeches and presentations o

n

controversial or complex topics to judges, jurors, public groups and other attorneys. 

Reasoning Ability: 

Ab

ility to define problems, collect data, establish facts, and draw valid conclusions.

Organizational Skills:  Ability to prepare required filings in a timely manner

.

Technological Skills:  Ability to utilize various

forms of

computer software

for drafting legal documents as well as in court presentations

such as Microsoft Word, Power

Point

etc

.

Communication Skills:  Maintain open communication with supervisor and co-workers.  Respond promptly to email, voice mail and other requested communication.

Licenses: 

Must be licensed

to practice law

in the state of

Illinois

.
CHARACTERISTICS UNIQUE TO THIS POSITION:
Ability to switch focus often to meet the immediate needs of the caseload assigned.  Willingness to work in all units within the State's Attorney's Office.  Willingness to assist other attorneys and staff as needed. 
ESSENTIAL JOB FUNCTIONS:
R

eviews police reports to determine criminal charges, secures additional information from law enforcement personnel when necessary.

  Must determine appropriate criminal charges by applying the facts of the case to the law.
Performs or directs prosecution

with

in a

ny unit of the office

.  May deal with litigation in other specialized areas of law.
Performs pre-trial planning, gathers and analyzes evidence and police reports.  Secures and coordinates witnesses and prepares them for court. 

Prepar

es

trials and motions

which would

include research regarding issues before the court. 

Develops trial strategies and prepares for pre- and post-trial motions, subpoenas and other legal

documents

. 

Prepares post-

conviction

responses, motions

as well as prepares Pen Statements.
Engages in pre-trial negotiations, when appropriate in order to dispose of cases prior to the trial date and reduce the court docket and expenditures

and reach a just result for the victim and the People of the State of

Illinois

.
Meets regularly with and works extensively with a variety of government, social service and law enforcement organizations and special committees.

Works with victim service providers to ensure compliance with the law.

  
Attends c

onference or seminars as needed ensuring

MCLE credit hours are fulfilled.
Performs all other duties as assigned.
starting at $45,000.00 /year