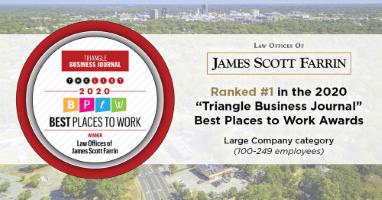 Bilingual Field Representative at Law Offices of James Scott Farrin
Greenville, NC 27858
Do you enjoy always being on the go and making a difference?
We have a current opening for a Bilingual Field Representative (English/Spanish) based in or near the Greenville, NC area. Our Field Reps are on the front lines of the James Scott Farrin experience - and there is certainly no typical day! In the morning, you might be visiting a client in Morehead City to finalize documents for a client's representation, and in the afternoon you could be at a police station in Plymouth picking up documents on behalf of the firm, or in a courthouse collecting court records for a case.
Our highly talented team of Field Reps travel across their areas throughout the day with one goal in mind – provide the best customer service experience possible, while making a positive difference for our clients. While the typical coverage area for this role is the Eastern area at large, this person may cover appointments within a few hours drive across NC and up into Southern Virginia. Normal work hours will vary, Monday - Friday, and there are no overnight trips out of town. All Field Reps are given use of a company vehicle for the work day.
Rotating duties of this position include:
Traveling daily to meet with clients – taking pictures of injuries, property damage, and handling confidential documents
Notarizing documents
Locating clients we are unable to get in touch with
Ensure maintenance of company vehicle and equipment
Maintain sign up folders
Pick up police reports
File documents for attorneys at the courthouse
Keeping in constant contact with supervisor
Other general duties as assigned
What we are looking for:
At least 2-4 years of demonstrated customer service, sales, or related experience.
Flexibility and discipline. This is a fast paced, ever changing job, and we need someone that is willing to jump in and be a team player at a moment's notice.
Someone who is comfortable in uncertain situations, and professional under pressure.
A clean driving record is required (due to use of company vehicle).
Bilingual ability (English/Spanish) is REQUIRED.
Important: this position requires interaction with injured clients at their places of residence. As the world has shifted to accommodate for COVID-19, we have put safety measures in place for our Field Reps such as requiring the wearing of masks, social distancing when at all possible, avoiding contact such as handshakes, etc. Please apply only if you are comfortable with these requirements.
This is a full time position that includes a full benefits package. Compensation is commensurate with experience.

Please apply through the link below:
https://farrin.bamboohr.com/jobs/view.php?id=186


45,613.00 - 46,332.00 /year
Field Sales Representative
What is this?