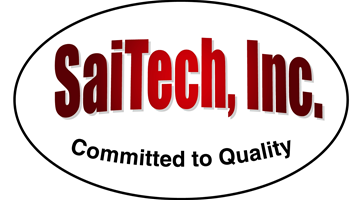 Business Development/Capture Manager at Saitech Inc
West Bethesda, MD 20817
SaiTech, Inc. has an opening for a Business Developer/Capture Manager that will work at our Bethesda, Maryland Headquarters. The selected candidate will have experience identifying and winning Federal contracts for information technology (IT) engineering, operations, technical support, and consulting services. The selected candidate will have successful track record winning contracts with DISA, DOD and Homeland Security. In addition to the business development activities the selected candidate will lead pre-proposal shaping activities, orchestrate capture activities during the proposal phase and post-submittal activities, and be responsible for leading opportunities toward high win probability.
Responsibilities:
Identify new business opportunities using various resources and personal knowledge of the customer environment
Shape and win new business through a balanced focus on customer value, the competitive environment, and the corporation's best interests
Lead efforts to secure new, re-compete or task order contracts/business from identification through qualification, capture, proposal and wins
Develop account strategy, opportunity strategy, and capture strategy, including business solutions; identify potential customers, competitive assessments, teaming suppliers, and price-to-win; participate in bid and proposal activities
Lead and integrate the assigned cross-functional team and authority to direct team activities for the duration of the pursuit
Maintain ongoing interaction with the line organization
Manage the pipeline
Report status, strategy and needs to various levels of management
Provide strategic thinking and execution for capture efforts with potential revenues of over $50 Million by determining capture team resource requirements and costs associated with bid. Understand capabilities, strengths, and weaknesses and direct the development of strategies and marketing philosophies.
Provide leadership and management by identifying and training capture team members to ensure necessary support elements are available.
Interact with a broad range of departments to develop win and price strategies.
Manage cross/multiple capture efforts in conjunction by collaboration, facilitation, and negotiation.
Provide customer and business knowledge through business intelligence to ensure the team fully understands the desires and needs of the customers and the capabilities of potential competitors. Create win themes and strategies including value propositions and have full responsibility for executing all aspects of the capture process all the way through contract win.
Identify and obtain commitment from business partners to ensure winning team.
Provide communication and time management by leading executive management gate reviews. Develop pricing strategy to provide the optimal cost advantage for the bid.
Prioritize and ensure that properly prepared recommendations (i.e., go/no-go presentations) are delivered to senior management.
Conduct color team reviews to ensure that reviews are conducted in a repeatable manner adhering to ISD procedures and processes.
Minimum Qualifications:
Bachelor's Degree plus 7-10 years of prior relevant experience
7 years of experience in strategic planning, financial analysis, capture management, teaming and negotiations
7 years of business development experience in federal government contracted, including the ability to identify, capture and win multiple specific large and medium sized opportunities
7 years of experience demonstrating aptitude for milestone/EPP process; to include opportunity identification, developing business cases, and capture management
Superior communications skills, including written, verbal, and presentations
7 years of experience conducting polished, professional and savvy communications with customer stakeholders
3-5 years of successfully winning contracts within DISA, DOD or Homeland Security
US Citizenship required, must be able to obtain a Public Trust government security clearance
Preferred Qualifications:
Deep technical understanding of agile software development, data analytics, and infrastructure support
Experience in DISA, DOD and Homeland Security domains
Possess experience and existing relationships with multiple specific stakeholders within DISA, DOD and Homeland Security
Master's degree
Active Secret clearance
SaiTech, Inc. is an equal opportunity and affirmative action employer. SaiTech is committed to administering all employment and personnel actions on the basis of merit and free of discrimination based on race, color, religion, sex, sexual orientation, gender identity, national origin, protected veteran status, or status as an individual with a disability. Consistent with this commitment, we are dedicated to the employment and advancement of qualified minorities, women, individuals with disabilities, protected veterans, persons of all ethnic backgrounds and religions according to their abilities.