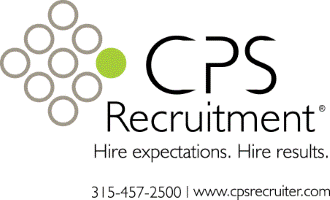 Certified Nursing Assistants/Aides (CNA) from CPS Recruitment
Syracuse, NY
CPS Recruitment, Inc., is seeking Part-Time, Full-Time, and Per Diem Certified Nursing Assistants (CNAs) for a Long-Term Care Facility in the Syracuse area. This opportunity is with a prestigious skilled nursing facility where you will provide direct and indirect care for their patients through the support of its hard working and compassionate nursing staff.


As a Certified Nursing Assistant (CNA), you will provide exceptional care by:
Caring for and providing compassionate direct resident care
Assisting in activities of daily living (ADLs)
Observing residents and documenting any health issues or concerns
Maintaining a safe environment for everyone

Background Profile for a Certified Nursing Assistant (CNA):
Experience in a Long-Term Care facility setting
Active and current CNA license/certification for the state of New York
Proficient computer skills including prior experience with an EMR system

The compensation range for this Certified Nursing Assistant (CNA) opportunity is $16+/hr, DOE
14 - 22 /hour
Nursing Assistant
What is this?