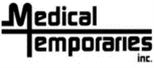 Certified or Registered Medical Assistant at Medical Temporaries, Inc.
Virginia Beach, VA 23451
Opportunities are available for Certified Medical Assistants

Medical Assistants are currently needed in various facilities throughout the Hampton Roads area of Virginia.


 

Responsibilities may include but are not limited to:
Greeting and rooming patients
Obtaining vitals
Administering Injections
Phlebotomy/Blood Draws
Finger Sticks/Heel Sticks
EKGs
Following all OHSA and HIPAA regulations
Additional Skills (a plus but not required for each position):
Electronic Medical Records
Assisting with OB/GYN procedures
Specialized experience
Hours available: (Let us know the hours you're available for and we'll tell you about the opportunities that fit what you're looking for.)
Full-time: 8:00am - 5:00pm, M-F
Requirements:
Candidates must have at least 1 year of recent work experience and must have a verifiable positive work history. Medical Temporaries is serious about providing quality medical care to the community and are interested in healthcare workers who have a passion for helping others and providing compassionate care to those who need it.  Medical Temporaries is an Equal Opportunity Employer and a Drug-Free Workplace. 
We build a bridge to help you reach your career goals. Many of the area's premier medical facilities partner with Medical Temporaries to handle the recruiting and hiring for their facilities. With more than 20 years of experience staffing the medical community, we have the relationships and resources available to get your foot in the door in a timely manner. While we do work for the hiring managers, we also work for you. We want the job to be a good fit for everyone because ultimately, Your Success is our Success.
For more information about our company and current opportunities, you can visit our website at www.medtemps.com .