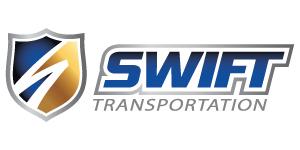 Certified Safety Instructor at Swift Transportation
Phoenix, AZ
Position at Swift Transportation
Let's be honest, this is not your first time scrolling through a corporate website looking for a job. So, why Swift? We understand people leave companies if they are not offered rewarding, challenging work. People look for new opportunities if they are not surrounded by coworkers and leaders they trust. At Swift, we have some of the most amazing passionate hard-working people you will ever meet. We have adopted the approach that everyone makes decisions based on the best interest of the company
FULLY LOADED
So far you seem to like us, let us tell you more about how awesome we are. Our benefits are top notch. Sure, we could wow you with the normal benefits plan, but we decided to kick it into overdrive and see if we can push the pedal to the metal. These benefits are so hot, you need A/C on full blast to read this list.
401(K) Retirement Plan
Medical, Dental, and Vision Coverage
Employee Assistance Program
Financial Connect ®
Legal Connect ®
Estate Guidance ®
Guidance Resources ®
Flexible Spending Accounts
Life and accidental death and dismemberment insurance
Supplemental Benefits
Disability Insurance
Financial Wellness Program
Employee Stock Purchase Plan
Employee Discounts
This position is a full-time position and may require additional hours outside of a traditional schedule as needed. All training is paid. This position is not remote.

 WHO ARE WE LOOKING FOR

Someone who can instruct professional truck drivers, in defensive driving techniques, proper completion of driver's daily logs and safety related topics.
Someone  who has good Written and verbal communications skills, energetic self-starter, classroom instruction and presentation skills, excellent organization and follow-through skills.
Team player and problem solver.
High School Diploma or GED
3 years Transportation Experience.
LG123