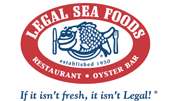 Chef at Legal Sea Foods, LLC.
Short Hills, NJ 07078
Chef for Legal Sea Foods in Short Hills!


-Newly remodeled restaurant, looks like new!
-Exciting busy location!
-Easy to get to, easy parking!

Come grow with us! The Chef is directly responsible for overseeing all food production in the restaurant. This also includes assigned Back of House department(s) of; including hiring, training, discipline, scheduling and performance appraisals. He/She is in charge of all kitchen operations, ensuring restaurant and company standards of quality and service. The Chef is also responsible for overseeing the Sous Chef and Kitchen Manager(s). In addition he/she manages all daily and weekly reports, inventory, waste control, product variance and proper food rotation.

Requirements

Prior restaurant/hospitality management experience
Ability to make independent decisions without direction from others
Effective written and verbal communication skills
Ability to motivate
Promotes a team atmosphere and works well as part of a team

Join a restaurant company over 60 years in the making!



Become a part of a family run business that prides itself on providing a great employee experience!
Vacation/paid time off
Medical, Dental and Vision
401K
Employee Referral Program
$59,428.00 - $75,961.00 /year
Chef
What is this?