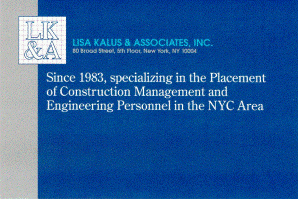 Construction Assistant Project Manager at LISA KALUS & ASSOCIATES INC
New York City, NY 10004
Immediate job opening for an Assistant Project Manager with a growing Midtown Manhattan general contractor/construction manager.

Projects include out of the ground, mid-rise and hi-rise residential buildings, hi-rise hotels and large scale building renovations.

Candidates with a minimum of 2 years of new building or large rehab construction experience in Manhattan or Brooklyn are preferred. Must be able to read plans well.

A degree in either construction management, engineering or architecture is highly preferred.

Will work on projects for prominent NYC real estate developers.

Excellent opportunity for career growth.