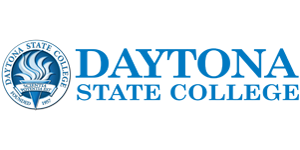 Construction Manager #626 - Facilities Planning at Daytona State College
Daytona Beach, FL 32114
Construction Manager #626
Facilities Planning
Claim Your Careerat Daytona State College!
Offering more than 100 certificate, associate and bachelor's degree programs, Daytona State College (DSC) has responded to the education and workforce training needs in our region for more than 60 years. The college enrolls nearly 27,000 students annually at its seven instructional sites, with graduates serving in critical fields including health care, emergency services, business, education, hospitality, engineering, technology and more.
DSC has ranked in the top tier of U.S. News & World Report's Best Online Bachelor's Programs for seven years running, and in 2018 topped the list of least expensive public online bachelor's degree programs for in-state students. Additionally, the U.S. Department of Education's College Affordability and Transparency Center has ranked the college among the top 50 most affordable public four-year institutions in the country, with tuition that is less than half the national average. DSC is a student-centered institution committed to open access, excellence in teaching and learning, and, foremost, student success. The college offers a full student-life experience, with varsity sports, our internationally recognized Southeast Museum of Photography, a state-of-the-art fitness and aquatic facility, and a performing arts center that hosts theatrical, musical and dance productions throughout the year.
We currently have an opportunity to join our team of talented and diverse Faculty and Staff as aConstruction Manager.

Required Qualifications: This position requires a Bachelor's degree in Engineering, Architecture, Construction Management, or a closely related field and four (4) years of related work experience.


Desired Qualifications: A State Uniform Building Code Inspection certification is preferred.


The minimum starting salary is $41,400. Minimal additional compensation may be granted for education and/or experience exceeding the minimum stated job requirements. This is at the sole discretion of Daytona State College.


Note: This is a re-advertisement. Candidates who have previously applied are still under consideration and need not reapply.


Posted Date:5/3/2019 Closing Date: Open until filled
Application review to begin on 5/24/19
Rewards package, features:


Medical, dental and vision benefits
Generous paid time off - vacation leave, sick leave, personal days, spring break, winter break, and other holidays
Florida Retirement System (FRS)
Free wellness membership at our Lemerand Center
Education Reimbursement and Professional development opportunities

Key Responsibilities:


Performs life safety inspections. Performs complete architectural, civil, mechanical, electrical, plumbing, and structural inspections on construction projects to ensure compliance with applicable codes. Reviews construction documents and designs to ensure compliance with applicable codes, regulations, and laws.
Get certified as a building inspector for structural, electrical, mechanical, and plumbing
Updates, changes, and plots out designs for use by College personnel. Gathers and compiles information to support periodic and special reports for projects of responsibility.
Meets with architect during planning stage of new projects.
Coordinates with college employees and other organizations during construction projects; works closely with College personnel to coordinate construction. Reviews construction schedules, applications, designs, and RFI and soil reports.
Works with architect and contractor to reduce cost of projects by resolving errors and omissions in project designs.
Maintains facilities database. Maintains record system for area of responsibility.
Attends periodic progress meetings with architect and contractor.
Knowledge, Skills and Abilities: The successful candidate must able to perform professional level work requiring the application of principles and practices of a wide range of methods in the solution of problems; applies general understanding of operating policies and procedures to solve complex problems. This individual will possess knowledge of construction projects, construction documents, architect's contracts, insurance/liability issues, budget and basic accounting practices as well as NFPA and /or Florida Building Codes. The candidate will also possess skills in Word, Excel, Microsoft Project or another construction scheduling program, R.S. Means or other estimating software and AutoCAD or other drafting/design software. The candidate must have a keen attention to detail, strong organizational skills and effective interpersonal skills.

For consideration, applicants must submit an online application atwww.DaytonaState.edu/hr. Applicants may also upload his/her cover letter, resume and transcripts of all degrees and coursework. Application must include the names, addresses and telephone numbers of three (3) professional references. If formal education occurred at an international institution, a copy of the degree evaluation must be uploaded and submitted with the online application. Candidates will not be considered if copies of transcripts (and / or third party evaluations) are not furnished by the position closing date. Any candidate hired must supply official transcripts within 30 days of employment.

Criminal background checks are required.

For more information, please contact us at telephone 386.506.4505, or 386.506.3238 for a TDD connection, or visit our website athttp://www.DaytonaState.edu.
Reasonable accommodations are available to applicants with disabilities during the application and interview process. To request accommodations, contact 386.506.4505.
Daytona State College prohibits discrimination and assures equal opportunity in employment and education services to all individuals without regard to age, ancestry, belief, color, disability, ethnicity, genetic information, gender, marital status, national origin, political affiliation, pregnancy, race, religion, sex, and veteran status. For more details, read our policy at this sitehttp://www.daytonastate.edu/hr/equalaccess.html or contact Lonnie Thompson, Director of Equity, Inclusion and Title IX at 386-506-3973 or 1200 W. International Speedway Blvd., Daytona Beach.


EQUAL OPPORTUNITY / EQUAL ACCESS EMPLOYER


Required Skills


Required Experience