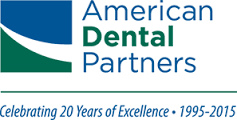 Continuing Care Specialist at American Dental Partners
Roseville, MN 55113-1115
Metro Dentalcare is a large group practice with more than 40 locations throughout the Minneapolis and St. Paul metropolitan area. Metro Dentalcare was founded in 1968 on the cornerstone of building strong patient relationships. Our caring dentists and dental professionals share a vision of providing superior patient care focused on the individual needs of each patient. This vision helps make dental care as convenient as possible for the patient while the support of a group practice allows our dental professionals to have opportunities for growth while maintaining a work/life balance. Metro Dentalcare's general dentistry offices are accredited by the Accreditation Association for Ambulatory Health Care, Inc. and all offices feature electronic dental records and digital x-rays. We offer a complete range of preventative, cosmetic and specialized dental services. Our dental specialists provide pediatric dentistry, orthodontics, periodontics, oral surgery and endodontics.
This position serves to produce efficient, productive hygiene schedules, while at the same time enhancing patient's perception of the service they receive. This person answers all incoming phone calls and email requests from patients to schedule appointments, ensure ER patients are seen same day and answer billing calls.
Other responsibilities include:
Receive and respond skillfully to all patients questions and concerns.
Return all email message and phone message from patients the same day, or when the patient dictates.
Monitor hygiene schedules to maximize efficient use of time.
Call current patients to attempt to fill all openings in the hygiene schedules and maintain full and efficient schedules each day. Goal is 90% efficient.
Ensure all hygiene schedules are confirmed 48 hours in advance.
For patients who no longer come to Metro Dental care, inactivate the patient account and/or family and notify the clinic so the chart can be inactivated.
Respond to billing questions on the same day. Escalate complex issues to the Practice Manager.
Provide excellent customer service to all internal and external customers.
Provide feedback to administrative personnel on enhancing scheduling of hygiene patients.
Ensure superior customer service for both the hygienists and patients.
Feel empowered to ensure the customer's needs are met; go above and beyond to help every patient.
Other duties as assigned.
We offer a competitive salary and excellent benefit package including a 401k, health insurance and a professional work environment.
To learn more about American Dental Partners and Metro Dentalcare please visit us at www.amdpi.com and www.metro-dentalcare.com.
Required Skills
High school diploma or GED
Dental experience a plus
Telemarketing experience a plus
Attention to detail.
Customer service focused.
Pleasant and professional phone voice.
Team player!
Required Experience