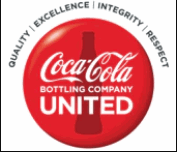 Coordinator - Risk Management Claims at Coca Cola Bottling Company United, Inc.
Birmingham, AL 35209
Division: Corporate 
Department : Claims Risk Management 
Work Schedule: Mon - Fri 8:00am to 5:00pm 
Summary Job Statement
The Risk Management Coordinator is responsible for the facilitation of the Company's Risk Management programs including TRTW, claims investigation, and OSHA Compliance.
Responsibilities
Administers company's Transitional Return to Work (TRTW) Program.
Facilitates post-accident drug and alcohol screens
Provide salary information to adjusters for injured employees to ensure correct indemnity benefits are paid
Maintains OSHA 300 Logs for assigned locations and ensures OSHA log compliance
Provides Monthly Reports to the Director of Risk Management, Corporate Claims Manager, and Claims supervisor as directed
Facilitates the timely reporting of statewide work-related accidents (physical, vehicle, product, service). Communicates with managers/supervisors on completing reports for these incidences
Inputs all work-related accidents (physical, vehicle, product, service) into insurance carrier's database. Updates carrier's database as needed.
Maintains open communication with worker's compensation vendors. Meets with vendors and employees as needed to discuss ongoing treatment.
Coordinates collection of service records in regard to products and general liability claims.
Communicates claim trends to location leadership.
Participate in Company Sponsored Events such as United Way, Employee Appreciation Day, Services Awards, and any other project during the year
Assists with development and improvement of claims process
Resource for EHS Policies and Procedures
Minimum Qualifications/Requirements
High school diploma or general education degree (GED); or 12 to 24 months related experience and/or training; or equivalent combination of education and experience..
Must have excellent oral and written communication skills.
Must be highly organized and self-motivated.
Must be able to multi-task and maintain a high level of confidentiality and professionalism.
Must be able to communicate effectively with everyone, including health care providers, insurance companies, all levels of workers from hourly paid to President and CEO
Microsoft Office, SAP, OSHA
The ICE System
Master Control, MSDS System
DOT, FMCSA
Regular and consistent attendance required
Additional duties as assigned
Additional Comments
Successful candidates with our company must pass a drug screen and background check. (MVR/DOT Physical, if applicable)
Coca-Cola Bottling Company UNITED, Inc. "An EEO/AAP Employer (M/F/D/V)"
CCBCU is an Equal Opportunity Employer Minorities/Women/Veterans/Disabled.