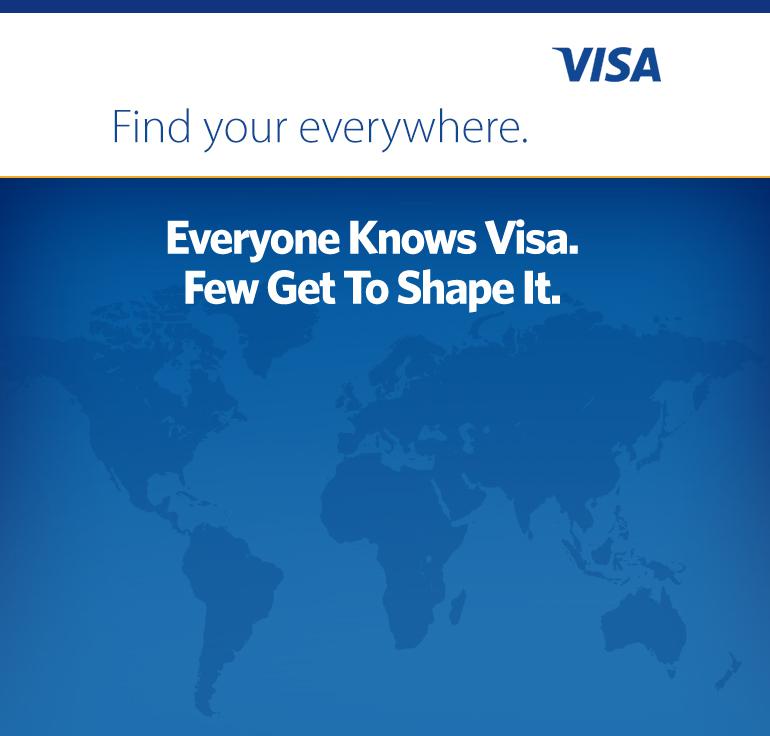 Counsel, Legal – Employment at Visa, Inc.
Foster City, CA
Company Description
As the world's leader in digital payments technology, Visa's mission is to connect the world through the most creative, reliable and secure payment network - enabling individuals, businesses, and economies to thrive. Our advanced global processing network, VisaNet, provides secure and reliable payments around the world, and is capable of handling more than 65,000 transaction messages a second. The company's dedication to innovation drives the rapid growth of connected commerce on any device, and fuels the dream of a cashless future for everyone, everywhere. As the world moves from analog to digital, Visa is applying our brand, products, people, network and scale to reshape the future of commerce.
At Visa, your individuality fits right in. Working here gives you an opportunity to impact the world, invest in your career growth, and be part of an inclusive and diverse workplace. We are a global team of disruptors, trailblazers, innovators and risk-takers who are helping drive economic growth in even the most remote parts of the world, creatively moving the industry forward, and doing meaningful work that brings financial literacy and digital commerce to millions of unbanked and underserved consumers.
You'rean Individual.We'rethe team for you.Together, let's transform the way the world pays.
Job Description
This position will report to the VP, Legal Employment & Social Impact, and be responsible for providing advice and counsel to Human Resources (HR) and company managers in all areas of global employment law, policy, development and training. The attorney functions as a key strategic advisor to HR and the business functions. This position may also assist with providing legal support to the Social Impact function, including partnering with stakeholders to develop and implement strategies, policies, and procedures to align with emerging legal and regulatory requirements.
This position requires an excellent teammate who can work with minimal supervision in a dynamic environment. Occasional travel will be required.
Key responsibilities
Provide advice and counsel on employment law issues including hiring, performance management, discipline, terminations, pay and benefits.
Review and provide guidance on drafting and development of Human Resources policies and procedures domestically and internationally.
Counsel HR, management and supervisors on handling employee relations matters, including employee counseling, discipline and benefits issues.
Lead or provide advice and support on internal investigations. Recommend and help implement appropriate actions.
Defend employment-related claims, including leading outside counsel in litigation globally, responding to administrative claims from governmental agencies and settlement demands, and negotiating resolution of claims.
Assist employment law team in developing, implementing, improving and reviewing legal compliance projects and training.
Prepare, direct and conduct training programs on employee relations matters; for example, employment law updates, managing within the law, and conducting investigations.
Review and provide input on policies, procedures and specific matters impacted by legislation such as OFCCP, FMLA, ADA, FLSA, OSHA, ERISA, state workers compensation and employment discrimination laws.
Assist with matters related to Social Impact.
Negotiate, review, and prepare contractual arrangements with outside service providers, including administrative and programmatic consultants and vendors.
Qualifications
Basic Qualifications:
5+ years of relevant experience.
Juris Doctorate degree from an accredited law school.
Preferred Qualifications:
Current member in good standing of the California bar.
Corporate employment law experience, both counseling and litigation. Experience in top law firm and/or in-house environment.
International experience strongly preferred.
Extraordinary analytical ability and advocacy skills; excellent written and oral communication and negotiation skills; and the ability to drive execution in a team environment.
Effective verbal and written communication skills in all interactions with senior management, corporate departments and all levels of employees.
Developed business insight, with ability to understand the company's business and anticipate the nature and magnitude of issues that could arise in various settings.
Additional Information
Work Hours:
Varies upon the needs of the department
Travel Requirements:
This position requires travel5-10% of the time.
Mental/Physical Requirements:
This position will be performed in an office setting. The position will require the incumbent to sit and stand at a desk, communicate in person and by telephone, frequently operate standard office equipment, such as telephones and computers, reach with hands and arms, and bend or lift up to 25 pounds.
Visa will consider for employment qualified applicants with criminal histories in a manner consistent with the requirements of Article 49 of the San Francisco Police Code.
Visa is an EEO Employer. Qualified applicants will receive consideration for employment without regard to race, color, religion, sex, national origin, sexual orientation, gender identity, disability or protected veteran status. Visa will also consider for employment qualified applicants with criminal histories in a manner consistent with EEOC guidelines and applicable local law.