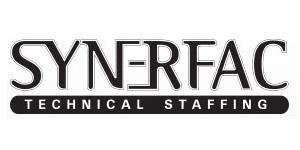 Customer Account Representative from Synerfac Technical Staffing
Newtown, PA 18940
Leading company in historic Newtown, PA is seeking a Customer Account Representative to join their growing team. This is a great opportunity to join a tremendous organization, situated in a great location. This person will be responsible for managing customer accounts, working directly with our field sales team, 3rd party carriers, logistics coordinator, and our customers. The position is a salaried position and will follow normal business hours on most days. The candidate should be a strong team player with high energy and exceptional interpersonal skills. This position will require interacting with outside customers, carriers, and warehouses frequently (on the phone), so good verbal skills are critical. Good organizational skills, attention to detail, understanding of product supply chain, and the ability to problem solve are critical attributes for this position. Also, the candidate should be able to multi-task with precision, retain knowledge, and be able to meet deadlines.
Confirming sales orders from sales team or directly with customers and entering those orders into main system. Confirm prices with sales reps and ensure proper invoicing to customers. Work with customers to solve problems with product, deliveries, etc.
Maintaining product inventory, including deliveries in and out of warehouses. Work with internal logistics coordinator to manage receipts of new product entering the warehouse (or ports) and work with freight carriers to capture deliveries out of the warehouse (or ports) to customers.
Audit charges from carriers and warehouses and approve invoices for payment.
Work with 3rd party warehouses to reconcile inventory on a weekly/monthly basis.
Assist with answering incoming calls and triaging them to responsible rep or department.
Work directly with external freight carriers to setup product deliveries to our customers, including ensuring the necessary paperwork is in place.
Negotiate rates with carriers and maintain costs associated with transportation from ports and warehouses to customers.
Invoice our customers on a timely basis, based on confirmation of product delivery.
May be asked to order/purchase new products from our suppliers and coordinate delivery to our warehouse or directly to our customers.
May be asked to assist with special projects, data entry, routine filing of support paperwork, and assisting with incoming calls.Interpersonal skills, writing skills, verbal communication, professionalism, organization, and the ability to manage processes. Experience in managing supply chain related activities, including purchasing, warehousing, shipping, and working directly with warehouses and carriers to coordinate product deliveries. Should be skilled in use of Microsoft Office, especially Excel and working with an integrated inventory system is a plus. Must have at least a High School Diploma. A college degree is a plus. Experience in related industry is not required, but is a plus. Ability to speak Spanish and/or Mandarin is also a plus, but is not required.