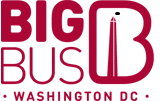 Customer Service Representative/Ticket Seller at Big Bus Tours
WASHINGTON, DC 20002
Big Bus Tours is the world's largest operator of open-top sightseeing tours, fueling the spirit of adventure in 21 world-famous cities across four continents. Beginning its journey 27 years' ago, with a fleet of only three buses, Big Bus Tours has swiftly expanded to a global fleet of over 400 hundred open-top buses, turning 5 million tourists into explorers, every year.
Position:
The Customer Service Representative works within the Sales and Sightseeing department. The main responsibilities are to assist current and potential guest with outstanding customer service, as well as, attempting to maximize revenue at licensed stops. The Customer Service Representative also acts as a brand ambassador for the company.
Key Benefits:
Employees receive medical, dental, vision, 10 Days PTO
Make an average of $16 per hour.
Flexible hours
Have the opportunity to participate in event such as the "ALL CAPS Parade". This year Staff enjoyed meeting and celebrating with the World Champion Capitals Hockey Team as we chauffeured them in the Stanley Cup Parade.
Tour the entire world. Being a part of the team means that any Big Bus city that you travel to you we be able to tour FOR FREE!
There is no salary cap, MAKE AS MUCH MONEY AS YOU WANT!
Career opportunity. Big Bus promotes from within, which means for you, that any position that you are qualified for across the world, you can apply for.
Meet people from all over the world.
Basic requirements:
Walking /Standing most of the 8 hour shift
Accurately and efficiently complete all sales transactions and maintain proper cash and media accountabilities at POS registers.
Operation of ticket machine and exchange of cash/credit and tickets can be done with one hand if needed
No lifting/carrying/pushing/pulling over 5lbs
No overhead lifting/carrying/pushing/pulling
Must be able to interact with and speak to customers and potential customers