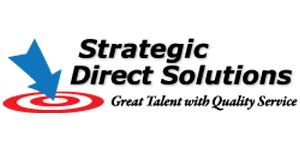 DC Power Systems - Level IV Installer and helpers at Strategic Direct Solutions
DC Power Plant Level IV and Level III - Installers and Field Service Technicians

Strategic Direct Solutions, LLC is looking for some "Great Talent!!!"

We are currently looking for strong Highly Skilled, Level IV - DC Power - Battery Plant Installation Technicians, with experience in AT&T, CenturyLink, Verizon, Sprint, Cell Site, Central Office or Cable Head End environments.

This could be a perm hire position with full benefits, truck and tools, if you have the right Skill Set.

Positions are available Nationwide and we are very busy.

Pittsburgh,PA - Philadelphia, PA
Seattle, WA Area
Denver, CO Area
Salt Lake City, UT
San Jose, CA - Sacramento, CA
Las Angeles, CA - San Diego, CA
Phoenix, AZ
New York, NY
New Jersey
Florida
Georgia
Carolina's
Texas
Ohio
Southern Michigan
Indiana
Atlanta
Louisiana
And more...
Pay Rate: $20 - $30/hour
Locations: Indiana, Ohio, Southern Michigan Area
Technician Requirements: * Level IV DC Power Leads
Ability to program power controllers (Level IV Skill*)
Ability to perform hot cuts/slides/transfers (Level IV Skill*)
Ability to pull Signal and Power Cables, as necessary.
Ability to crimp, lug, terminate, stitch and lace cable to 750 MCM or Fiber
Ability to install all types of infrastructure in Cell Site and/or DC Power type environments.
Ability to rack, stack and secure equipment bays/cabinets.
Travel as necessary to meet project needs.
Ability to install BDFB's, Rectifiers, 2k to 10k AMP Power Plant systems
DC Power crews needed for 2 & 12 volt battery swap outs & complete power builds Nationwide.
Reliable and strong work ethics required.
Lift, push, pull up to 75 lbs.
If you feel you are up for the challenge, submit your resume via the "APPLY" button, in this posting.