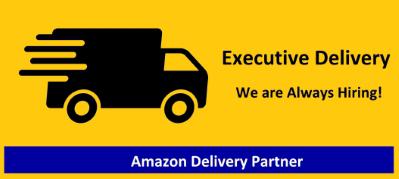 Delivery Associate - Driver for Amazon Partner in Mahwah, NJ at Executive Delivery, Inc
Mahwah, NJ 07430
Executive Delivery, Inc, a national provider of logistics services, is looking for reliable Route Drivers to join our growing team in Mahwah, NJ to drive routes for our delivery partner Amazon.
Drivers will be responsible for local daily delivery routes to residential and business locations throughout the area.
Qualified candidates will drive a standard cargo van on routes for approximately 8-10 hours a day. Drivers will deliver parcels and totes directly to customers or approved secure locations.
Benefits include:
Paid training
Incentive bonuses
Paid vacation and sick days
Health Insurance available within 30 days of hire
May qualify for a raise after 90-day probationary period
Flexible schedule
Immediate hire for qualified candidates.
Job Requirements:
A current and valid driver's license.
Reliable transportation to warehouse location.
Must be at least 21
Must be able to lift up to 50 pounds
Must be able to get in and out of a van throughout the day
Loves to drive and is passionate about customer service
Commercial (or work-related) driving experience is a plus



Executive Delivery, Inc is an equal opportunity employer and does not discriminate against any applicant or employee because of race, color, religion, sex, national origin, disability, age, or military or veteran status in accordance with federal law.

Executive Delivery, Inc complies with applicable state and local laws governing non‑discrimination in employment in every jurisdiction in which it maintains facilities.

Executive Delivery, Inc also provides reasonable accommodation to qualified individuals with disabilities in accordance with applicable laws.

Job Types: Full-time, Part-time, Temporary
17.50 - 19.00 /hour
Performance and Referral Bonuses are available