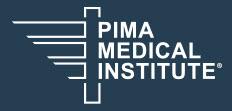 Dental Hygiene Clinic Dental Assistant at Pima Medical Institute
ALBUQUERQUE, NM
ESSENTIAL FUNCTIONS
Evaluate the performance of students regarding achievements and make necessary provisions to meet learning needs.
Prepare practical demonstrations for students in class and individually.
Demonstrate and assist students with lab procedures and ensure safety precautions are adhered to.
Oversee and regulate preparation of instruments, sterilization procedures, and clinic disinfection and cleanliness.
Assist Dental Clinic Receptionist with front office duties as necessary.
Serve as a chair-side assistant with the clinic dentist(s) or hygienist(s).
Assist with OSHA compliance and safety for the Dental Program.
Order clinic supplies and maintains the inventory for the clinic in association with Clinical Director.
Maintain the clinic and lab equipment.
Oversee necessary maintenance logs.
Track dental lab cases.
 The list of essential functions is not exhaustive and may be supplemented.
MINIMUM QUALIFICATIONS
Graduation from an accredited Dental Assistant program recognized by the U.S. Secretary of Education or the Council for Higher Education Accreditation (CHEA) or a graduate of an otherwise recognized training entity (e.g., hospital-based program) in Dental Assisting.
Three (3) years of occupational experience as a Dental Assistant
Proficient in didactic and clinical four-handed and/or six-handed dentistry.
Current licenses, certifications, or other designations as required by local, state, or federal laws to work in the Dental Assistant field.
Bilingual preferred
401K
Employee Events
Employee Referral Program
Flexible Spending Accounts
Free Food and Coffee
Life Insurance
Long Term Disability
Medical, Dental and Vision
Military Leave
Mobile Phone Discount
Paid Holidays
Paid sick days
Parking
Prescription Drug Coverage
Professional Development
Retirement / Pension Plans
Tuition Reimbursement
Vacation/paid time off