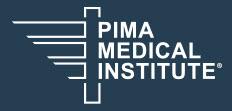 Dental Hygiene Clinic Receptionist at Pima Medical Institute
HOUSTON, TX
ESSENTIAL FUNCTIONS:
Schedule and confirmation of patient appointments.
Handle clinic information inquiries both in person and on the telephone.
Utilize HIPAA standards to maintain Patient confidentiality and data protection.
Maintain and accurately file records and update information from patients.
Participates and documents accounts receivable and accounts payable.
Generate bank deposits slips and deliver them to appropriate person for deposit.
Knowledge and utilization of dental insurance procedures and policies.
Provide update reports to Program Director / Clinical Director on clinic performance.
Oversee student front office rotation.
Various administrative duties as needed.
 The list of essential functions is not exhaustive and may be supplemented.
MINIMUM QUALIFICATIONS:
Verbal and written communication skills.
One (1) year of dental receptionist experience, preferably using dental software.
Computer and word processing skills.
Any equivalent combination of experience, training, or education that meets the minimum qualifications.
One (1) year of dental assistance experience, using dental software preferred.
401K
Employee Events
Employee Referral Program
Flexible Spending Accounts
Free Food and Coffee
Life Insurance
Long Term Disability
Medical, Dental and Vision
Military Leave
Mobile Phone Discount
Paid Holidays
Paid sick days
Parking
Prescription Drug Coverage
Professional Development
Retirement / Pension Plans
Tuition Reimbursement
Vacation/paid time off