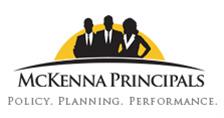 DevOps Engineer at The McKenna Principals
Fairfax, VA 22031
DevOps Engineer
Position Responsibilities:
Support Dashboard Development for the Continuous Diagnostics and Mitigation (CDM) Program. CDM is a dynamic approach to fortifying the cybersecurity of government networks and systems. Congress established the CDM program to provide adequate, risk-based, and cost-effective cybersecurity. Looking for candidates to aid in the development of dashboard solutions to visualize cyber security related data: Hardware Assets, Software, Vulnerabilities, Configuration, Users, Incidents, Compliance Scores / POA&Ms, Risk Scores, etc.  
This position will be responsible for developing and managing the automated build system, automated deployment system, continuous integration environment, and continuous test environment for a suite of open source/COTS product configurations and custom code. The candidate will work closely with Configuration Management Analysts and the Release Train Engineer to automate build/test/deploy processes from Dev->Test->Staging. The successful candidate will be familiar with deploying, integrating, and managing source control (Git/GitHub), continuous build/delivery (Jenkins), software quality tools (SonarQube), artifact hosting (Nexus), issue management (Jira), documentation/ collaboration (Confluence), automated testing (Selenium), and deployment of solutions (Open Source Java solutions and COTS configuration files). The candidate must have experience maintaining configuration of cloud-based environments including using infrastructure as code and using Ansible or other open source technologies across multiple environments.
Required Skills:
Bachelor's Degree (Preferably STEM)

Experience building and maintaining CI/CD pipelines

Experience with Docker and Kubernetes

Experience with Infrastructure automation using CloudFormation, Terraform, Ansible, or similar tools

Have a strong desire for learning new technologies and finding solutions to problems

Good communication skills and the ability to collaborate with other teammates

Expert level expertise automating build/test/deploy processes

Expert level expertise in scripting deployments using bash scripting or similar

Expert level expertise with identification of controlled artifacts (configuration items) and implementation of standard CM control processes

Expert level experience with configuration management tools and technologies.

 

Git or similar distributed repository technology preferred

Expert level expertise integrating Content Management systems and/or Wikis with SCM (for example JIRA integration with Confluence)

Advanced level expertise designing, implementing, supporting, monitoring and maintaining systems using Ansible or other open source technologies across multiple environments including cloud and on-premise infrastructure

Intermediate level expertise and experience in system architecture and engineering disciplines

Intermediate level expertise in efficiently managing AWS resources to control costs

Intermediate level expertise of the cyber security domain to

include:

governance and risk management, compliance, business continuity and disaster recovery, encryption, software development security, access control, network security / secure architecture, and security operations

Experience in deploying Cloud platform-as-a-service with Amazon AWS.

Experience scripting configuration of servers using tools such as Ansible, Puppet, Chef, and Salt

Excellent problem-solving ability and strong work ethic that is proactive and self-motivated

Experience in product release planning and associated deliverable tracking

Proven experience in Windows and Linux/Unix system administration

Experience training and identifying opportunities to enhance the CI/CD pipeline
Desired Skills:
Relevant AWS Certifications

Experience with Azure

SAFe

DevOps Certification

Experience integrating with an Active Directory

Familiarity with DoD STIGs, SRGs, etc.

Experience using Confluence to manage documentation / wikis