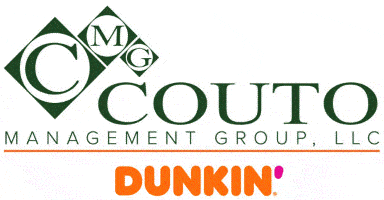 District Manager at Couto Management Group - Dunkin'
Randolph, MA 02368
Could your career use a caffeine boost??? Our company manages numerous Dunkin' shops spanning North of Boston, the greater Boston area, South Shore, Fall River and Cape Cod and we are growing!
We are currently looking for experienced District Managers in the Greater Boston & South Shore areas! Come join our Dunkin' Team!
Primary responsibilities include:
*Responsible for all aspects of operations for approximately 6-8 Dunkin' Donuts restaurants
*Attaining high levels of guest satisfaction by working with and through your Restaurant Managers to instill a sense of urgency around guest service
*Recruiting, training and developing qualified Restaurant Managers and fostering a learning environment throughout all restaurants
*Maintaining A-rated restaurants in full compliance with Dunkin' Donuts operational guidelines and food safety standards
*Growing sales by creating and implementing customized marketing plans and driving Restaurant Managers and Crew Members to achieve targeted goals
*Meeting budgetary requirements for controls by utilizing technology to analyze trends and taking action to impact the bottom line
Qualifications:
Qualified applicants will have 1-3 years of QSR experience in managing multiple locations, familiarity with cost analysis, basic writing and computer skills, and strong team leadership capabilities. A Bachelor's degree in management, finance or a related field is preferred.
This position entails a six-day workweek and may require work on some nights and holidays depending on the needs of the business.
Benefits:
*Competitive Salary
*Annual Bonus Plan
*Health & Dental Insurance
*Aflac Benefits
*Car, Cell Phone & Gas Allowance
*Paid Vacation
*Employee Discounts
*Excellent Growth Potential
Please note: you are applying for work with a franchisee of Dunkin' Donuts, not Dunkin' Brands, Inc. or any of its affiliates. Any application or information you submit will be provided solely to the franchisee. If hired, the franchisee will be your only employer. Franchisees are independent business owners who are solely responsible for their own employees and set their own wage and benefit programs that can vary among franchisees.