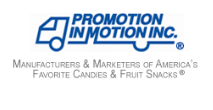 Director of Purchasing at Promotion In Motion Inc.
Allendale, NJ 07401
About Promotion in Motion Companies, Inc. (PIM):
We are one of North America's premier makers of fruit snacks, confections and other treats. Ranked amongst the top 50 on Candy Industry Magazine's "Global Top 100" confectionery companies in the world. PIM has also been named as one of the fastest growing CPG companies in the U.S. by The Boston Consulting Group and IRI, for the fourth time in six years to receive this recognition.
At PIM our goal is simple: We delight consumers with delicious, high quality snacks and confections. Our commitment is to develop, manufacture and market the highest quality products in a responsible, ethical and transparent manner. We put consumers at the core of what we do and are continually looking to improve our people, knowledge, processes and technologies to accomplish this.
Job Summary
Primarily responsible for overseeing all purchasing activities at all facilities as they relate to raw materials/ingredients and packaging to support the manufacturing environment, as well as direct involvement with negotiations and strategies for plant equipment and parts purchases.
Essential Duties and Responsibilities
Responsible for overseeing the management of stock purchase agreements, future orders, pricing management database, and specialty purchases to support company needs at all facilities.
Interface with Marketing, Project Management, Research & Development, Sales, Supply Chain, Customer Service, Plant management, Production Planning, Finance, Warehousing and Inventory Control.
The role contributes to the bottom line of the organization by interfacing with the Production Planning Team to identify supply needs using forecasting tool and subsequently negotiating to procure goods, materials and services on favorable terms to support those needs. Maintain flexibility and re-prioritizing work flow throughout the day.
Source and streamline material purchases and negotiate product cost with vendors to obtain best possible value.
Build strong vendor relationships and partnerships.
Monitor & work with all business units to insure the budgeted costs are met and inventory days on hand remain at targeted levels.
Direct and coordinate purchasing functions for all business units ensuring effective just-in-time procurement.
Ensure quality standards and requirements are consistently met.
Manage all inventory of materials, ensure product demand requirements are met as well as inventory turn targets.
Implement purchasing procedures designed to ensure effective product cost control and predictability.
Analyze and interpret numerical data and perform basic financial analysis.
Determine and ensure uninterrupted pipeline of ingredients and raw materials to meet production needs.
Research and recommend new vendor opportunities and relationships and contingency supply relationships.
Work with Production and Supply Chain to clarify/resolve any discrepancies.
Support trend and profitability analysis by tracking and reporting on significant price changes to our financial organization as an early indicator of impact on financial targets.
Report item cost of goods purchased compared to projected cost of goods impact especially on new product launches.
Participate in corporate end of year inventories as required by performing multiple tasks that could include counting warehouse stock, data entry, pallet pooling program, or other administrative tasks.
Align continuous improvement initiatives with strategic organizational objectives and key performance metrics to drive goals.
Build an empowered, engaged, and high performing team by hiring top talent and developing people through mentoring and coaching to inspire and achieve results.
Ensure focus and accountability, facilitates collaboration, continuous improvement, and achievement of results. Execute strategies that deliver goals with a commitment to excellence and dissatisfaction for the status quo.
Manage key projects as assigned.
Qualifications

Bachelors degree in Business, Management, or related field is preferred.
Minimum 3 to 5 years of similar management experience, with 7 to 10 years experience in procurement, preferably within CPG industry manufacturing environment.
Strong vision and focus on where to take the business coupled with the courage, drive, and discipline to execute.
Good working knowledge of Microsoft Office including Word, Excel, PowerPoint and Outlook.
APICS Certification preferred.
Demonstrate personal and professional values, being a role model & positive influence on those around him/her. Demonstrates unquestionable integrity and character. Brings out the best in others by these qualities.
Demonstrated ability to hire top talent and build talented, engaged, and high performing teams.
Strong written and verbal communication skills; strong interpersonal and organization skills; and, demonstrated ability to develop and maintain strong relationships.
Strong record of achievement demonstrating leadership capabilities.
Self-motivated and bias for action.
Good working knowledge of Microsoft Office including Word, Excel, PowerPoint and Outlook.
Approachable, authentic and genuine.
What We Offer:
We invite you to come and build a SWEET career at PIM. Our entrepreneurial environment is perfect for action-oriented individuals who enjoy a non-bureaucratic structure. Make an immediate and lasting impact while helping to grow our iconic brands.
PIM offers competitive pay and a comprehensive set of benefits for which each Associate is eligible on their first day of employment.
Benefits include:
Medical, prescription drug, dental, vision care, flexible spending accounts for you and your dependents
Company matching 401(k) plan
Life Insurance and Long-Term Disability Insurance
Generous paid time-off including sick/personal days, vacation, and company holidays
Wellness Programs
Scholarship Program
Commuter Plan
Our Key Principles:
Put Consumers First: Understand consumers and address their needs and desires.
Accessible: We strive to make our brands available in traditional retail and online – anywhere consumers want to find them.
Transparency: Be open and honest about our products, ingredients, how we make them and label them.
Responsibility: We do not advertise on any media outlets aimed at children under age 13 and have signed an industry commitment to abide by this standard.
Community: We partner with local and national organizations on strategic initiatives to help our communities thrive.
Fun and Goodness: At the end of the day, we make snacks and treats that bring joy and goodness to peoples' lives.
Life at PIM:
We believe to our core that our true competitive advantage is talented Associates who share our values and our passion for the business.
A lot of companies talk about being entrepreneurial. At PIM, we live it every day. Associates are empowered to make decisions and bureaucracy is kept to a minimum.
Attracting, selecting, and developing top talent is what differentiates us from the competition.
You can make an immediate and lasting contribution to help grow our iconic snacking and confectionery brands, no matter your area of expertise.
We are a privately held mid-sized, global company with limited bureaucracy, committed to investing in the business.
Be part of a fast-paced environment that provides challenging opportunities to learn and grow your career. We recognize and reward achievement and foster great teamwork through collaborative and strong relationships with colleagues.
Enjoy your work and be part of a fun team and industry.
PIM is an equal opportunity employer, and an e-verify employer.
Medical, Dental and Vision
401K
Performance bonus
Employee Referral Program
Paid Holidays
70,545 - 111,006 /year
Purchasing Manager
What is this?