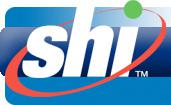 District Sales Manager - Field at SHI
Ft. Lauderdale, FL
Job Summary
SHI is currently seeking a talented District Sales Manager for Corp. This individual will be responsible for managing all sales activities within the Tampa and Ft. Lauderdae districts for SHI Corp.
The District Sales Manager will need to have a proven track record in attaining sales goals and quotas. The position is a challenging and dynamic opportunity for the right individual. SHI will offer a competitive compensation and potential relocation package for the perfect candidate.
About Us
Innovative Solutions. World Class Support. 
Constantly growing in response to the needs of our customers in all sectors and verticals, SHI has transformed itself from a $1 million "software-only" regional reseller into a $11 billion global provider of information technology products and services.
From software and hardware procurement to deployment planning, configuration, data center optimization, IT asset management and cloud computing, SHI offers custom IT solutions for every aspect of your environment.
Privately-held and under the guidance of our current ownership since 1989, SHI has experienced tremendous growth in size and scope through neither merger nor acquisition. Our organic growth and two decades of stability are a direct result of backing a highly-skilled and tenured sales force with software volume licensing experts, hardware procurement specialists and certified IT services professionals.
Headquartered in Somerset, NJ, SHI supports their clients from over 30 offices throughout the U.S., Canada, the U.K., Germany, France and Hong Kong. SHI's goal is to foster long-term, mutually-beneficial relationships with its customers and partners, every day. 
What SHI Can Offer:
World Class Facility includes on site gyms, restaurants and community events
Ongoing opportunities for personal and professional growth and development due to our strong promote from within philosophy
Work in an up-beat, creative, and fun environment
Benefits, include medical, vision, dental, 401K, and flexible spending
Responsibilities
Responsible for managing professional sales teams in Ft. Lauderdale and Tampa 
Drive sales strategy and work with Account Executives and the Regional Director to attain sales quotas
Develop and deliver effective sales presentations to customers
Motivate, coach, and manage the sales team
Manage Account Executive performance
Build a sales team (recruit, hire, and train new employees)
Oversee accurate pipeline management
Exponential territory growth
Establish and develop strong Partner relationships within the district
Work with Marketing to effectively create brand awareness
Ownership of the top customers in territory
Local travel required
Qualifications
Three years of successful sales experience in the technology field
Strong knowledge of all Microsoft programs
Strong written and verbal communication skills
Strong problem solving, organizational and interpersonal skills
Experience working with C-Level executives
Highly focused on customer solutions and satisfaction
Strong negotiation and motivational skills
Excellent presentation skills. Must have experience presenting to large groups
Proficiency in Microsoft Outlook, Work, Excel & PowerPoint
4 year College Diploma/University Degree
Relocation is required. SHI will offer a relocation package (if necessary)
Additional Information
FLSA: Exempt
Equal Employment Opportunity – M/F/Disability/Protected Veteran Status
#Corp
#LI-BT1