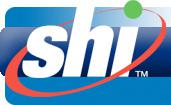 Document Handling Clerk at SHI
Somerset, NJ
Job Summary
The Document Handling Clerk supports the Account Receivable & Account Payable needs by processing checks, scanning documents, and indexing data into internal systems for record keeping.
This position is required to report to the SHI Somerset NJ office location as determined by SHI management.
About Us
Innovative Solutions. World Class Support. 
Constantly growing in response to the needs of our customers in all sectors and verticals, SHI has transformed itself from a $1 million "software-only" regional reseller into a $11 billion global provider of information technology products and services.
From software and hardware procurement to deployment planning, configuration, data center optimization, IT asset management and cloud computing, SHI offers custom IT solutions for every aspect of your environment.
Privately-held and under the guidance of our current ownership since 1989, SHI has experienced tremendous growth in size and scope through neither merger nor acquisition. Our organic growth and two decades of stability are a direct result of backing a highly-skilled and tenured sales force with software volume licensing experts, hardware procurement specialists and certified IT services professionals.
Headquartered in Somerset, NJ, SHI supports their clients from over 30 offices throughout the U.S., Canada, the U.K., Germany, France and Hong Kong. SHI's goal is to foster long-term, mutually-beneficial relationships with its customers and partners, every day. 
What SHI Can Offer:
World Class Facility includes on site gyms, restaurants and community events
Ongoing opportunities for personal and professional growth and development due to our strong promote from within philosophy
Work in an up-beat, creative, and fun environment
Benefits, include medical, vision, dental, 401K, and flexible spending
Responsibilities
Include but not limited to:
Processing and scanning vendor checks which includes validating billing data and necessary backup is stored in system.
Scan and store multiple document types in Docuware System
Keep track of checks mailing dates
Works closely with Account Payable to update check issues and overnight checks
Effectively prioritize multiple demands while processing Account Payable checks
Daily indexing vendor invoices using auto forward from Microsoft Outlook to Docuware System
Preparing Voucher Forms fill-in for Account Receivable and mailing with SHI invoices
Assisting with web-based Account Receivable invoicing
Monitoring Vendor Invoices emails for all divisions and saving into Docuware System
Monitoring International division vendor emails for all branches such as UK, Ireland, Hong Kong, France, Singapore, etc. and saving them into Docuware System
Indexing packing slips and answering all requested packing slips emails from warehouse for SHI's Intregration Centers (Knox, Ridge)
Inputting of customer payment details from various file formats into a master file to be used for cash application.
Qualifications
Typing experiences for volume data entries
3 months of experience working on an office setting
High school diploma
A desire to learn and expand current knowledge base
Creative spirit to provide ideas and feedback for improving current processes
Required Skills
Excellent communication skills
Detail oriented
Excellent organizational and time management skills
Ability to multitask – handle checks processing and scanning at once
Ability to work both independently and as member of a team
Ability and initiative to research and resolve problem
Ability to exhibit a positive teamwork ethic and initiative within a fast paced environment
Initiative to be a resourceful to research solutions
Excellent time management, organization, and prioritization skills
Strong written and oral communication skills
Attention to detail, with the ability to anticipate questions when providing responses via phone or email
Ability to stay self-motivated and self-directed
Ability to adapt to changing duties with team members and support priorities
Preferred Qualifications:
College experiences a plus
Additional Information
Equal Employment Opportunity – M/F/Disability/Protected Veteran Status