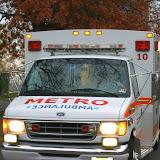 EMT - SIGN ON BONUS $2,500 - BENEFITS, Hackensack, NJ at Metro Ambulance LLC 201-214-2201
HACKENSACK, NJ 07601
EMT - Emergency Medical Technician
$2,500 Sign-On Bonus! Benefits!
Hackensack, NJ
- Medical Benefits available
Various shifts available:
- 2 PM to 10 PM shifts
- Overnight shifts
- Weekend (Saturday & Sunday) Shifts
- Day Shifts
Metro Ambulance is hiring EMTs who are compassionate, caring, with safety in mind.
The position requires patient care, driving EMS vehicles, as well as lifting and moving patients and equipment.
You must have a current valid NJ, NY, PA or National EMT Certification, a Healthcare Provider CPR Certification, and a valid Driver's License.
- You get Priority if your Driver's License is in good standing
- Priority if you have extensive EMS/911 Experience
- Excellent pay
- Night and Weekend shifts are available.
Fun and Great working environment while helping people when they need us the most.
Job Types: Full-time, Part-time, Temporary
Salary: $14.00 to $20.00/hour based on experience
Experience:
License:
CPR/BLS (Required)
EMT (Required)
US Driver License
Work Location:
Working days:
Monday
Tuesday
Wednesday
Thursday
Friday
Saturday
Sunday
Hours per week:
Typical start time:
Typical end time:
$14.00 - $20.00 /hour
$2,500 sign on bonus