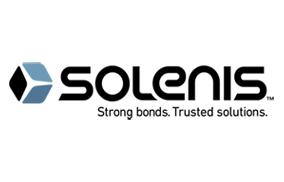 Environmental Health and Safety (EH&S) (EHS) Specialist I at Solenis LLC
Milwaukee, WI 53209
Solenis is a leading global producer of specialty chemicals for water-intensive industries, including the pulp, paper, oil and gas, chemical processing, mining, biorefining, power and municipal markets. The company's product portfolio includes a broad array of process, functional and water treatment chemistries as well as state-of-the-art monitoring and control systems. These technologies are used by customers to improve operational efficiencies, enhance product quality, protect plant assets and minimize environmental impact. Headquartered in Wilmington, Delaware, the company has 41 manufacturing facilities strategically located around the globe and employs a team of approximately 5,200 professionals in 120 countries across five continents.  For additional information about Solenis, please visit www.solenis.com |Twitter | LinkedIn.
Solenis is staffed with great minds and powered by ingenuity. When you join the Solenis team, you become part of a global community of 5,200 experts who work together to provide advanced process and water treatment solutions. Our team members take pride in their ability to think dynamically and help solve our customers' unique challenges. If you're interested in becoming a part of our elite team, please explore our current career opportunities.
The EHS Specialist reports to the Plant Manager, and has the following objectives:
Primary leader of Environmental, Health, and Safety focus and improvements

Manage the EHS continuous improvement program, OSHA PSM / EPA Risk Management compliance, Responsible Care certification (RC14001) compliance, and compliance to Solenis EHS Policies & Procedures.

Monitor day to day activities of all employees and contractors to ensure a safe & compliant facility is maintained. This includes team participation with on-site, as well as corporate teams.

Collaborate with all site employees

Drive and manage continuous improvement projects associated with Environmental & Safety compliance

Provide coaching and manage employee training related to EHS

Communicate and ensure compliance with all plant EHS policies and procedures and maintain appropriate records

Investigate and resolve EHS issues

Lead investigation of EHS incidents

Ensure capital projects are in line with EHS objectives

Develop, own, and execute improvement plans for EHS continuous improvement
Roles & Key Accountabilities:
Accountable for site compliance; Environmental, Health, & Safety, Responsible Care, ISO 9001: 2015 certification, etc.

Cost management of department and drive efficiency and cost reduction activities to meet or exceed budgetary requirements.

Drive change where appropriate to facilitate the Solenis EHS continuous improvements

Accountable to assist the Plant Manager with the overall site performance

Responsible for EHS training program and strategy

Responsible to ensure all safety & security compliance reporting is conducted accurately and on-time.

Responsible to ensure environmental compliance sampling & testing, as well as reporting to various agencies is performed accurately and on-time for all environmental operating permits.

Monitor day to day activities of all employees and contractors to ensure a safe & compliant facility is maintained. This includes team participation with on-site, as well as corporate teams.

Manage safety training to all employees through face to face and on-line training management

Responsible for the overall EHS programs at the facility in terms of safety communications, coaching, data management, procedural changes and implementation around EHS

Manage testing, evaluating, maintaining critical safety infrastructure at the facility

Facilitate, document, and report on EHS root cause analysis investigation

Provide backup to Plant Manager as incident commander

Oversee OSHA High Risk programs thru providing training to site employees, performing internal audits, and implementing continuous improvements
BS in Occupational Safety, Health and Environment or other safety or environmental discipline, or BS in ChE or Chemistry, as a minimum.

Must possess good written and oral communication skills and be able to work with all levels of management.

Must provide development, coaching, and counseling to employees

Computer skills including Microsoft Office

Knowledge of safe work practices, environmental and safety rules and regulations, specifically OSHA and EPA

Must be detailed oriented and able to multi-task in a fast-paced environment

Basic skills in English (writing and speaking)

Capacity and willingness to both lead a team and be a team member as an individual contributor

Capable of performing job functions & responsibilities with minimal oversite by the Plant Manager

Preferred entry level to 7 years in an EHS leadership role in a chemical manufacturing environment
At Solenis, we understand that our greatest asset is our people. That is why we offer competitive compensation, comprehensive benefits and numerous opportunities for professional growth and development. So, if you are interested in working for a world-class company and enjoy solving complex challenges, whether in the lab or the field, consider joining our team.
Solenis is proud to be an Equal Opportunity Affirmative Action Employer, including Minorities / Women/ Veterans / Disabled.  
 
Solenis is proud to be an Equal Opportunity Affirmative Action Employer.  All qualified applicants will receive consideration for employment without regard to race, color, religion, sex, sexual orientation, gender identity, national origin, or protected veteran status and will not be discriminated against on the basis of disability.
Should you require assistance in applying to this opportunity, please reach out to Solenis Talent Acquisition at 1-888-756-2701.