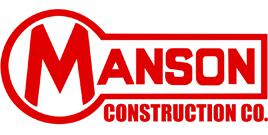 Environmental Health and Safety (EHS) Specialist at Manson Construction Co.
Jacksonville, FL 32216
SUMMARY
Directs and implements the Manson Company safety program to ensure a safe, injury and incident-free work environment on assigned projects. Travel to field projects will be required. This position works a rotating schedule, 19 days on duty and 9 days off duty to start, and may change due to location and work assignments.
ESSENTIAL DUTIES AND RESPONSIBILITIES includes the following, additional duties may be assigned:


Assists the Superintendents by recommending safe work practices as part of preplanning and training; establishes jobsite safety procedures


Participates in morning project meetings and kick-off meetings


Conducts comprehensive on-site safety assessments as part of constant monitoring process


Conducts daily jobsite assessments and documents all safety violations or unsafe conditions/activities; ensures corrective measures are immediately implemented; follows through to insure corrections have been made


Communicates regularly with Superintendents, Foremen and craft concerning safety practices observed, both positive and negative


Educates project personnel through on-the-job training. Examples are toolbox meetings, one on one conversations, and impromptu gatherings of craft personnel when instructions are needed for specific work


Assists the Superintendent in completing the Weekly Jobsite Safety Checklists and maintains an updated safety deficiency list to be posted, filed and used as talking points in safety meetings or to communicate what needs to be taken care of


Assures that Incident Reporting and Investigations are done, and may accompany injured employees for medical treatment and evaluation


Administers the Manson Alcohol and Substance Abuse Policy on the project and ensures appropriate protocol is followed


Assists project management with guidance and direction of project personnel related to requirements for safe practices on assigned project


Accompanies safety, health and insurance personnel on tours of the project, as needed


Furnishes information and assists project and corporate personnel in preparing appeals for possible safety violations/citations


Coordinates project safety programs with subcontractors


Assists the Superintendent in investigating property damage and personal injury incidents


Schedules and arranges crew training for various required EHS courses, such as first aid training


Develops the job specific Emergency Management Plan and communicates through orientation to all project personnel


Ensures compliance with contractual obligations


Maintains safety files and records on project Share Point site daily


Ensures company EHS policies and procedures are communicated, understood and implemented consistently


Advocates the Manson culture and promotes IIF within the workforce. Responsible for practicing safe work standards and promoting an Incident and Injury Free (IIF) work environment as a condition of employment.


Ensures compliance with Mansons Code of Ethics and Standards of Business Conduct



QUALIFICATIONS
To perform this job successfully, an individual must be able to perform satisfactorily the essential duties and responsibilities noted above. Reasonable accommodations may be made to enable individuals with disabilities to perform the essential functions.
EDUCATION and/or EXPERIENCE
A two or four year Occupational Safety and Health Management or Environmental Health and Safety degree, or equivalent course of study. A minimum of 5 years of diversified construction, marine construction or health and safety construction experience, or any commensurate combination of training, educations and experience. Advanced knowledge of and ability to enforce all federal, state, local, and company regulations. Ability to recognize hazardous situations and implement corrective measures.
CERTIFICATES, LICENSES, REGISTRATIONS
A health and safety certification recognized by the Board of Certified Safety Professionals (BCSP) such as STSC, or the ability to obtain one within the first six months of employment. Completion of OSHA 30 hour Construction outreach class or qualified to teach OSHA Construction Outreach courses and have a minimum of 5 to 7 years of construction safety experience. Valid drivers license required.
COMPUTER SKILLS
Intermediate knowledge of Microsoft Office Suite (Word, Excel, Outlook) required.
WORK ENVIRONMENT
The work environment characteristics described here are representative of those that must be met by an employee to successfully perform the essential functions of this job. Reasonable accommodations may be made to enable individuals with disabilities to perform the essential functions.
Position is primarily a field position, but also requires regular office/desk work utilizing a computer and telephone. Position requires regular travel for visiting and monitoring of construction job sites.
PHYSICAL DEMANDS
While performing the duties of this job, the employee is frequently exposed to adverse weather conditions, fumes, airborne particles toxic or caustic chemicals. The noise level in the work environment is moderate to loud. Employee must be able to wear the personal protective equipment (PPE) required of various construction work environments (hard hats, personal floatation devices, safety glasses, respirators, etc.). The employee is frequently required to use hands and fingers, to grasp, grip, handle, or feel. The employee is required to talk and hear. The employee is frequently required to sit for extended periods of time. The employee is required to stand, walk, use stairs, ladders, and step stools and reach with hands and arms. The employee must frequently lift and/or move up to 10 pounds and may occasionally lift up to 25 pounds. Specific vision abilities required by this job include close vision, distance vision, color vision, depth perception, and the ability to adjust focus. Must be able to navigate stairs, ladders and gangways, board, work on and disembark floating vessels and structures.
---
Manson Construction Co. is an Equal Opportunity Employer. Manson is a Drug-Free Workplace.
PI113869010
Apply Here