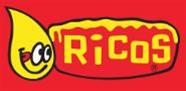 Equipment Maintenance Mechanic at Ricos Products Co., Inc.
Arlington, TX 76010
GROWTH OPPORTUNITY!

Our Company is growing and expanding. We are a concession snack food company that has been family owned for over 100 years. We offer competitive pay, generous benefit packages and a challenging, supportive work environment.

The maintenance mechanic position conducts machine setup, troubleshooting, repairs and preventive maintenance service.
ESSENTIAL DUTIES AND RESPONSIBILITIES

· Troubleshoot and repair electrical components such as variable frequency drives
· Perform regular mechanical and electrical preventive and predictive maintenance
· Knowledge of Ovens, Fryers and combustion systems.
· Knowledge of sequence of operations for industrial equipment
· Ability to read schematics.
· Knowledge of ladder logic troubleshooting on programs
· Maintenance experience welding with Arc/TIG a plus.
· Knowledge of pumps (Centrifugal, Diaphragm, Vacuum and Positive Displacement)

Physical Demands
· Ability to work well in hot weather
· Ability to lift/push/pull up to 75lbs
· Must be available to work some weekends as needed.
· Must be available to be On Call when needed.
· Must provide own hand tools.
· Must be able to stand 8-12 hours.

Qualifications and Education Requirements
· 4+years exp. as a maintenance mechanic if food manufacturing or related industry
· Bilingual a Plus
· Knowledge of basic hand tools and test equipment
· Must have High School Diploma

Preferred Skills
· Welding
· Experience of safety programs, LOTO etc.
· Experience with Food Plants
· Electrical troubleshooting

EOE Employer
$22.00 - $25.00 /hour
Attractive Benefits Package + Overtime Rates