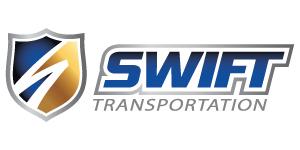 Equipment Sales Representative at Swift Transportation
Jurupa Valley, CA
At Swift Transportation, our experience has shown that hard working, engaged individuals focus on solving problems and improving efficiencies, which is our greatest differentiator. Swift Transportation's culture includes promotion of professional conduct in the practice of all employees, officers, and board members throughout the Company.
As a Truck and Trailer Sales Representative are you willing to take personal accountability, problem solve and grow the business. Then join a team that believes in everyone giving their best, honesty and mutual respect always and a passion for continual learning.
Primary Purpose and Essential Functions: Sell used trucks and/or trailers for a profit.
Sell used trucks and/or trailers in the open market.
Conduct detailed market analysis to identify and determine potential customer/market dynamics, trends and requirements.
Evaluate existing market to develop distinctive sales strategies.
Establish and maintain current customer and potential customer relationships through introduction, follow-up and follow-through.
Conduct successful communications with potential customers, reach out to existing customers and respond to customer needs.
Respond to quote requests, create sales reports and prepare computer-generated sales proposals.
Collaborate with designated department personnel to successfully coordinate service work such as Pre-Delivery Inspection (PDI), miscellaneous add-ons and/or repairs on equipment.
Maintain a positive work atmosphere by acting and communicating in a manner which facilitates the success of business operations in order to meet company demands and expectations.
Perform additional duties as assigned by management.
Skills: Must be proficient in Microsoft Office. Must possess excellent verbal and written communication skills. Must possess excellent listening and interpersonal skills. Must be self-driven, motivated and results-oriented. Must be able to work independently without direct supervision. Must be detail-oriented and possess good organizational skills. Must be able to prioritize and execute tasks effectively. Must be able to work under pressure and meet aggressive deadlines. Must be flexible and able to work on multiple quotes simultaneously. Bi-Lingual Preferred
Education: High School Diploma or GED or equivalent required. Associate's degree preferred.
Experience Required: Three (3) years of heavy equipment or transportation equipment sales required.
Benefits:
Medical insurance
Dental insurance
Vision insurance
Life insurance
401K through Swift Transportation
Paid Vacation
Quarterly Bonus Program
Employee Stock Purchase Plan
JE123