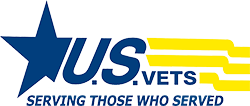 Executive Director at United States Veterans Initiative, Inc.
long Beach, CA 90810
Description
This position reports directly to the Chief Operating Officer. The Executive Director (ED) is responsible for the coordination and supervision of all services and programs delivered by United States Veterans Initiative. The sole function of this position is to assist homeless veterans in achieving their highest level of independence as rapidly as possible.
Job Responsibilities:
Evaluate trends in needs & gaps & develop programs to meet those needs.

Primarily responsible to develop a therapeutic milieu in accordance with United States Veterans Initiative Mission and Philosophy.

Supervise staff recruitment, hiring, and supervision.

Responsible for budget compliance and reporting.

Set annual Goals and Objectives for Site and manage for accomplishing those in a manner to successfully serve the veterans.

Responsible for the overall organizational integrity within the site & compliance with all federal & other regulations.

Maintain and develop a relationship with VA & other community partners to increase continuity of care.

Development of services through coordination with peer community providers.

Develop and maintain relationships with foundations, corporations and major donors to increase and diversify funding streams.

Develop and maintain relationships with elected government officials, federal and local to advocate veteran needs and service opportunities.

Identify grant opportunities and coordinate application process.

Responsible for the coordination of fundraising efforts at the site.
Qualifications
Requirements:
Bachelors degree required in Social Work, Public Administration, or related field. Masters degree preferred.

5 years minimum supervisory experience.

Must obtain valid Drivers License, current clean traffic abstract and ability drive facility vehicle and be covered by organization insurance.

Experience in program/budget management, staff supervision, and program development.

Experience working with homeless and/or veterans.

Excellent written and oral communication skills.

Ability to manage large number of diverse people.

Ability to communicate and work effectively with a diverse group of residents, staff, and community members

Ability to work well on a team.

Excellent leadership skills.