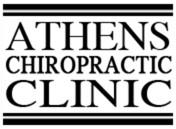 Experienced Front Desk/ Receptionist for High-Volume Chiropractic Clinic at Athens Chiropractic Clinic
SAN CARLOS, CA 94070
Are you a highly motivated, self-starter that is detail oriented? Our office is focused on patient-centered care resulting in a high-volume of patient visits per week. We are looking for a responsible, integral, and reliable individual with high organizational and customer service skills that performs well under pressure.
The ideal candidate has a high level of critical thinking skills, ability to multi-task, takes -initiative and learns new things quickly.
Two years previous experience working as a receptionist/front desk chiropractic assistant is required.
Previous experience with Chiro8000 preferred, but not required.
This is a permanent part-time position. Our clinic's operating hours are Monday through Saturday. The shift days for the position will be Tuesday and Thursday afternoons, all day Friday and Saturday mornings. Specific hours will be discussed during the interview. Compensation is DOE.
If you are the right candidate for this position, please reply to this ad. Serious inquiries only, please.
We look forward to having you as a part of our team!
34,771 - 40,839 /year
Front Office Assistant
What is this?