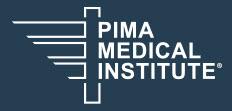 Faculty Dean (Faculty Coordinator) at Pima Medical Institute
SAN ANTONIO, TX
ESSENTIAL FUNCTIONS
Observe classroom instruction twice a year for certificate faculty and at least once a year for degree faculty.  Following the observation, meet with individual instructors to review and assess observations and develop strategies for instructional improvement and growth.
Assist instructors with the development of class calendars/schedules, instructional materials, use of electronic resources, and the coordination of guest speakers and field trips.
Screen and interview instructor candidates, recommend a candidate for hire. 

Orient newly hired instructors to Pima Medical Institute policies, procedures, and curricula.  Monitor all new instructors' progress and completion of the PMI Method.

Mentor instructors in educational methodologies and classroom management.
Survey students to evaluate classroom instruction.  Meet with individual instructors to review and assess survey results and develop strategies for instructional improvement and growth. If necessary, develop action plans to address areas of concern.  Share results of surveys with the Campus Director.
Provide on-site instructional continuing education opportunities.
Conduct and document faculty (all instructors) and departmental (specific certificate program instructors) meetings.
Write instructor 30, 90, and annual performance evaluations.  Review instructor performance evaluations with Campus Director and participate in their delivery to faculty.
Coordinate with Corporate Education Assistant Director to ensure the flow of information between the campus and the Corporate Education Department.
Distribute current copies of Pima Medical Institute curricula and ensure current version of curricula is in use.
Maintain a substitute instructor list for each program and ensure a qualified instructor covers each class when an instructor is out.  This could require the faculty coordinator to cover the class temporarily. 
Maintain electronic faculty files including current faculty development plans, licenses/certifications, and ABHES data forms.
Attend monthly Faculty Coordinator meetings via Zoom.
MARGINAL FUNCTIONS
Participate in campus and program Advisory Committee meetings.
Participate in the annual budget preparation and review of programmatic income statements.
Participate in campus graduation ceremonies and encourage faculty attendance.
The list of essential functions is not exhaustive and may be supplemented.
MINIMUM QUALIFICATIONS
Baccalaureate degree in Education or related field from an institution accredited by the U.S. Secretary of Education or the Council for Higher Education Accreditation.
Five (5) years of classroom experience teaching adults.
Knowledge of educational theory and methods.
Knowledge of Word, Excel, Power Point and other computer skills.
Experience in an Allied Health profession preferred.
Any equivalent combination of training, education or experience that meets the minimum qualifications.
401K
Employee Events
Employee Referral Program
Flexible Spending Accounts
Free Food and Coffee
Life Insurance
Long Term Disability
Medical, Dental and Vision
Military Leave
Mobile Phone Discount
Paid Holidays
Paid sick days
Parking
Prescription Drug Coverage
Professional Development
Retirement / Pension Plans
Tuition Reimbursement
Vacation/paid time off