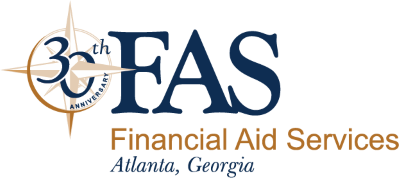 FAS Financial Aid Analysts at Financial Aid Services, Inc.
ATLANTA, GA 30339
Financial Aid Services (FAS), a proven leader in providing financial aid solutions to colleges and universities nationwide for over 29 years, is seeking to fill financial aid analysts (processing support) positions. These analyst opportunities are located at the FAS corporate office in Atlanta, GA.
Ideal candidates will be skilled financial aid professionals with a minimum of two years of financial aid experience at the counselor-level or higher. A college degree is preferred.
The positions require comprehensive knowledge of Title IV programs and proficiency with one of the commonly used financial aid management systems (such as Banner, Colleague, PeopleSoft, or PowerFAIDS).

Compensation for the positions is commensurate with experience.