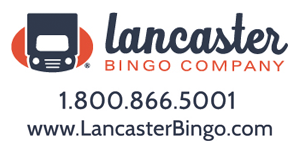 Field Service Equipment & Electronics Technician at Lancaster Bingo Company Inc
Greenfield, IN 46140
Looking for something more satisfying than just a job? At Lancaster Bingo Company, we work hard to help charities raise money for their causes through charitable gaming. Every day we are helping charities raise funds to build soccer fields and fire stations, send youth groups to camps, and buy new uniforms for sports teams, It's what we love and what we do.
We are seeking an experienced field service tech in the Greenfield, IN area. If you like working with your hands and have a great can-do attitude, we can train you to work on bingo and bingo-related equipment. You'll be part of a multi-state team of technicians that are the best in the business!
What will you do and how will you spend your day?  No one day will be the same!
You'll be:
Going to customer locations around the State delivering and installing bingo equipment including ticket dispensing machines and consoles for calling bingo games, hanging tvs and flashboards, and bringing older equipment back to life;
Performing a full range of servicing and repair service procedures including diagnostics, installation, removal and retrofits on assigned equipment;
Performing troubleshooting and repairs or replacing equipment components as necessary;
Preparing and testing equipment to ensure proper working conditions;
Responsible for parts inventory, invoicing, and a few other administrative items that keep us organized, compliant, and rolling!
To be successful in this position, you will need the following:
A High School Diploma or equivalent is required; an Associate's Degree or a Trade School Diploma is a plus!
At least 2 years' experience in a position where you've demonstrated good technical aptitude and/or skills and good customer relation skills;
The demonstrated ability and maturity to work independently and plan your day to maximize time and productivity;
The demonstrated ability to positively interact and respond timely to customers, both in person and on the phone;
An inquisitive nature and desire to resolve technical issues;
A desire to be part of a high performing team, which means we are depending on you to be at work and counting on your flexibility in being responsive to customers. 
To perform the job, there are a few other requirements, including:
Must be 18 years of age or older
Must have a valid driver's license and a clean driving record
Must be able to successfully pass a drug and criminal background check
Must be able to bend, stoop and lift 40-70 pounds on a regular basis and move and install equipment up to 100 pounds
Must be able to perform work on ladder (occasionally)
Must be able to travel the State and work over 40 hours/week if needed
Must be able to stay overnight occasionally (we cover meal and lodging expenses for overnight stays)
What can you expect from us if you join our team?
A competitive compensation and benefits package, including:

Medical, dental and vision care coverage and a 401(k) savings plan with company matching
Paid time off, short and long-term disability coverage, basic life insurance, Employee Assistance Program
Gym discount program and Wellness Reimbursement Allowance
Tuition Reimbursement program

And wait, we're not done yet….

We'll provide a service vehicle
We'll cover overnight expenses
We'll give you a cell phone allowance
No need to have your own tools – we'll provide those also!

We offer a fun and casual work environment and a real opportunity for growth. If you would like to be a part of our team, please submit resume with contact information and salary requirements to:
HR@lancasterbingo.com , attention Dept. 19-030, OR fax to 740.653.7735, Dept. 19-030, OR mail to Lancaster Bingo Company, Human Resources, Dept. 19-030, P.O. Box 668, Lancaster, OH 43130.
 
Lancaster Bingo Company, Inc. is an Equal Opportunity Employer. We are committed to providing an environment of mutual respect where equal employment opportunities are available to all applicants without regard to race, color, religion, sex, pregnancy (including childbirth, lactation and related medical conditions), national origin, age, genetic information (including characteristics and testing), military and veteran status, and any other characteristic protected by applicable law.
About LBC:
Lancaster Bingo Company, headquartered in Lancaster, Ohio is a full service charitable gaming supplier dedicated to helping organizations maximize their fundraising efforts. With more than ten (10) locations servicing the Eastern and Mid-Western parts of the U.S., Lancaster Bingo is one of the largest bingo supply distributors in the country.
20 - 20 /hour
Field Service Technician
What is this?