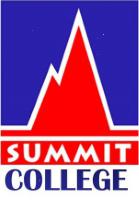 Financial Aid Officer at Summit College
San Bernardino, CA 92408
Position: Financial Aid Officer 
Position Description:
This position reports to the Financial Aid Manager and provides administrative support to the Financial Aid Manager as well as the Financial Aid Fiscal Officer.  The Financial Aid Officer is responsible for providing excellent customer service to prospective students. The officer will evaluate and determine student eligibility for federal and state aid programs, and award Title IV assuring compliance with federal, state and institution requirements.

Role and Responsibilities:

Adhere to the highest standards of compliance in performing all aspects of financial aid.
Global Certifies the Package for Title IV aid within the guidelines of the Department of Education and College procedures.
Complete verification process if student is selected by the DOE.
Exercise professional judgment to authorize changes in the financial aid EFC.
Scheduling and timely processing of year 2 packaging
Assist borrowers with entrance counseling as needed
Assist student with retail installment contract (RIC) options
Other duties as assigned.
Education and Work Experience Requirements:
A minimum of 3 years' experience in Financial Aid 
NASFAA, CASFAA, DOE Certifications a plus
Knowledge of financial aid programs, need analysis, policies and procedures and automated student information systems.
Experience with proprietary institutions preferred.
Must possess strong customer service skills and be detailed oriented.
Must be able to perform work with high levels of accuracy and have the ability to work in a fast-paced environment with frequent interruptions.
Summit College is an Equal Opportunity Employer. 
Visit Summit College at www.SummitCollege.edu 


52,770 - 94,075 /year
Financial Aid Director
What is this?