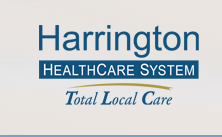 Financial Clearance Specialist at Harrington Memorial Hospital
Southbridge, MA
Patient Access / Navigation
High School Diploma/GED Certificate
GENERAL DESCRIPTION:Responsible for assessing and verifying patient information for scheduled for medical services. This requires verification of patients demographic, financial and insurance information. Collects co-pays, deductibles, coinsurances, and down payments. Provides estimates for services when appropriate. Receives and processes patient financial liability payments for current and past balances. 
The focus is to collect patient liabilities prior to service and to resolve any insurance and financial issues prior to services being rendered. Reschedules appointments when appropriate under the guidance of department leader. This position is the front line for customer service, pre-registration and access to care for scheduled services.
WORK EXPERIENCE REQUIREMENTS: Four plus (4+) years of experience within a business office setting, hospital revenue cycle preferred, Physician office or collection agency; prior experience in a healthcare environment required.  Knowledge of third party collections and reimbursement preferred. 
Working knowledge of personal computers and business office applications preferred; familiarity with hospital computer systems is a plus.
EDUCATION REQUIREMENTS: Minimum High School Diploma, or G.E.D required., business concentration preferred. Associate degree or higher, preferred.