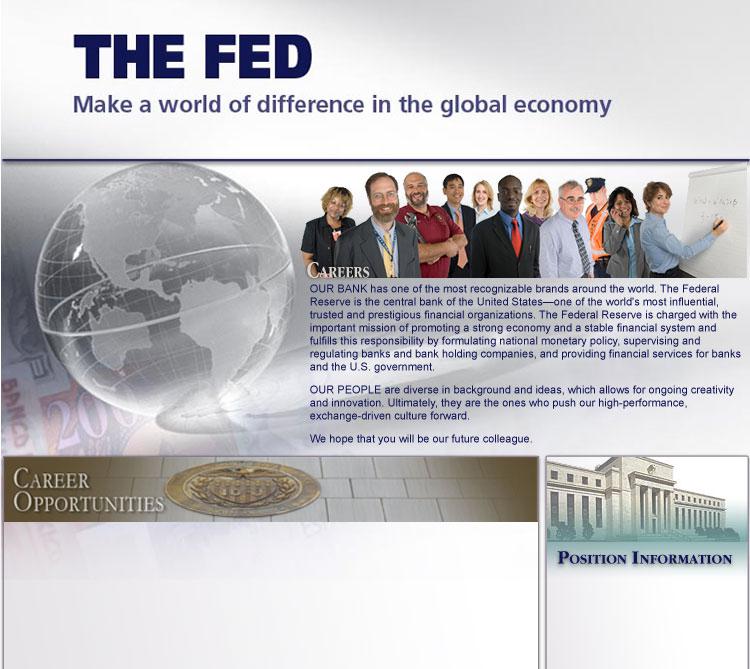 Financial Economist/Senior Financial Economist at Federal Reserve Bank of Richmond
Charlotte, NC
Financial Economist/Senior Financial Economist-260508
Federal Reserve Bank of Richmond
Primary Location
 NC-Charlotte
Other Locations
 MD-Baltimore
Full-time / Part-time
 Full-time
Employee Status
 Regular
Overtime Status
 Exempt
Job Type
 Experienced
Travel
 Yes, 10 % of the Time
Shift
 Day Job

Job Sensitivity Tier II - No Credit Check

The Federal Reserve Bank of Richmond has an opening for a Financial Economist in its Quantitative Supervision & Research (QSR) group. The QSR group is part of the Supervision, Regulation, and Credit (SRC) department. Financial economists at the Bank are expected to participate in supervisory work at large banking organizations, contribute to Federal Reserve System projects related to financial stability, and conduct original research for publication in academic and professional journals. The position requires economists who are interested in applied, policy-oriented work and research and offers a competitive salary, good benefits, and strong research support, including access to publicly available data such as the CRSP/Compustat database and proprietary data available only to researchers within the Federal Reserve System. There are opportunities for professional training, and the Bank provides support for travel to academic and industry conferences. QSR has an active seminar series and Visiting Scholar program. The position is a good fit for economists who want to do high-impact, applied work in banking and finance, and produce high-quality research. The Federal Reserve Bank of Richmond has offices in Richmond, Baltimore, and Charlotte. Most of the Bank's financial economists are located in Charlotte and Baltimore.

Essential Duties and Responsibilities (include but are not limited to the following):
Participate in on-site reviews and examinations related to banks' use of quantitative modeling.
Assist senior Department and Bank management on the formulation of supervisory policy. 
Keep abreast of current economic and financial developments—internationally, nationally, and regionally (in the Fifth District) – and assess the implications of these developments for supervised institutions.
Initiate, perform, and publish research projects in peer-reviewed academic journals.
Conduct applied economic research on emerging issues in bank supervision.
Included with your candidate submission, please attach .pdf files of your vita and at least one research paper. Please have letters of recommendation sent to charlotte.helms@rich.frb.org. We will interview candidates for this position at the FMA Annual Meeting October 23 - 26, 2019. For an opportunity to interview at the FMA Annual Meeting, please submit your application by September 30, 2019.
The selected candidate will be subject to special background check procedures, and may be offered a position either as Financial Economist - Associate, Financial Economist - Intermediate or Financial Economist - Senior, depending on candidate's knowledge, skills, and experiences as defined in the job qualifications/experience. Salary offered will be based on the job responsibilities and the individual's knowledge, skills and experience as defined in the job qualifications/experience.
Special Considerations: 
Under conflict of interest guidelines administered by the Board of Governors of the Federal Reserve System, examining personnel may not participate on an examination of a financial institution or affiliate if the examiner was employed by the financial institution or affiliate within the past 12 months. This role (job) regularly consults with staff assigned to Bank of America Corporation, BB&T, Capital One Financial Corporation and E-Trade examinations.
Please review the FRB Employee Code of Conduct to ensure there are no major issues related to your previous employment and current financial interests. (The Code is available on the About Us, Careers webpage at www.richmondfed.org.; the relevant sections are 5.3 and Appendix B, Parts I, II and III). 
FRB ethics rules generally prohibit employees and their immediate families from owning investments in banks, savings associations or their holding companies (Section 5.3). Additionally, employees engaged in Supervision and Regulation may be subject to borrowing and deposit restrictions. These employees may need to recuse themselves from certain supervisory work based on:
their borrowing relationships (Appendix B Parts I.1, II.1 and II.2),
if a financial institution employs a member of the employee's immediate family (i.e. spouse, child, parent, or sibling) (Appendix B Part I.3 and Part II.3), 
if the individual was employed by the financial institution or affiliate within the past 12 months (Appendix B Part I.3 and II.3).
In certain cases, the recusal may be so extensive it could materially reduce the effectiveness of the prospective employee.
Qualifications/Experience:
Ph.D. in finance, economics, or a related field, with strong quantitative skills.
Candidates for the Financial Economist position should have completed their Ph.D. or expect to complete it by Summer 2020. 
Candidates for the Financial Economist - Senior position should have a Ph.D., work experience in academia, government or industry, several publications in refereed finance or economics journals, and a well-established research agenda.
This is not necessarily an exhaustive list of all responsibilities, duties, performance standards or requirements, efforts, skills or working conditions associated with the job. While this is intended to be an accurate reflection of the current job, management reserves the right to revise the job or to require that other or different tasks be performed when circumstances change (e.g. emergencies, rush jobs, change in workload or technological developments).